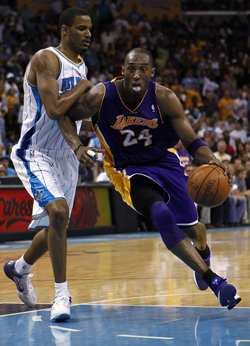 Posted by Royce Young
Kobe Bryant
was offered a hefty $6.7 million from Italian league team Virtus Bologna, which was the highest offer to any NBA player during the lockout. (That number is under some dispute with
another report saying it was for $5 million
.)
But it wasn't enough. Not what Kobe was looking for. According to Sportando and Bolognabasket.net, Kobe asked for a cool $15 million, before taxes, which would put it around $7.5 million. Which is obviously too much for the Italian team.
The original AP report noted
that there were extensive negotiations going on.
Virtus Bologna general manager Massimo Faraoni tells The Associated Press he's been on conference calls between Bryant's agent, Rob Pelinka, Bologna president Claudio Sabatini and main sponsor Canadian Solar, which would provide the cash for such a deal.

"I think the fact that he's lived in Italy makes this appealing to him," Faraoni said.

Virtus has given Bryant four different contract options, stretching from the one-year deal to two-month and one-month options, and a per-game deal that would come out to $739,640 per home game.
As Ben Golliver of CBSSports.com noted
, the $6.7 million offer would pay him 26.7 percent of what he was set to make in 2011-12 with the
Lakers
. Kobe's $25.2 milion next season, tops in the NBA.
Obviously Kobe's offer would include an NBA out, but climbing up towards the $15 million range is huge. And clearly way out of Virtus Bologna's price range. But right in Kobe's.