Posted by
Ben Golliver.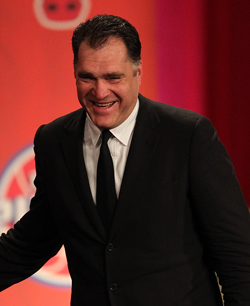 Lithuanian news site Delfi.lt reported on Tuesday
that Hall of Fame center Arvydas Sabonis, who played in the NBA for the Portland
Trail Blazers
after dominating European professional basketball for years, has suffered a heart attack.
The site reports that Sabonis, 46, suffered the heart attack while playing basketball and was immediately taken to a hospital in Kaunas.
LTBasket.com also
reported the news
on Tuesday.
Spanish website
CadaneSer.com also reported
that Sabonis had a heart attack and quoted Arturo Ortega, a representative for Sabonis, who said that Sabonis was "out of danger." Later Tuesday, Lithuanian news outlet
Lrytas.lt reported
that Sabonis had "stabilized."
Multiple reports indicate he will remain hospitalized for the time being.
Tuesday evening, the Blazers issued a press release confirming the news.
"The Portland Trail Blazers have confirmed that Arvydas Sabonis has been hospitalized after suffering a heart attack in his native Lithuania," the statement read. "His condition is believed to be non-life threatening. Our thoughts are with Arvydas and his family at this time. We wish him well in a speedy recovery."
Sabonis was inducted into the Naismith Basketball Hall of Fame in August. He played seven seasons with the Blazers and posted career NBA averages of 12.0 points and 7.3 rebounds per game. In Europe, he was named player of the year eight times and won a gold medal while representing the Soviet Union at the 1988 Olympics.