Posted by
Ben Golliver.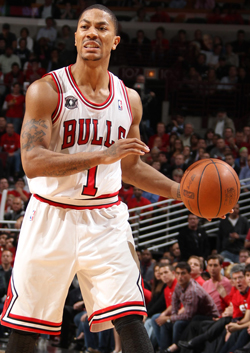 Consider this the second wave.
All summer, we heard from a number of big-name players who were not planning to play overseas during the lockout, probably because they assumed a deal would get done. Now that the start of training camp and the preseason have been postponed, it's time for everyone to reassess that stance.
At the top of the list: Chicago
Bulls
point guard and reigning NBA MVP
Derrick Rose
.
The Chicago Tribune reports
that Rose is now open to considering the international route and that there is an offer on the table.
"Yes, I am taking into consideration that I might move overseas," the Chicago Bulls guard said. "I don't know where. There are a lot of great places overseas. I haven't really had time to get the details of every place."

Two sources close to Rose confirmed he has at least one concrete offer from an undisclosed foreign team and that preliminary discussions with several other teams have been held. One of those sources stressed that those opportunities only would be pursued if, first, regular-season games get canceled and, second, talks break down for an extended period.
Does a trip abroad make sense for Rose, who averaged 25.0 points, 7.7 assists, 4.1 rebounds and 1.0 steals and led the Bulls to the Eastern Conference Finals in 2010-2011?
Well, it's not ludicrous, but it's still probably not the best idea.
Rose is set to make just under $7 million in 2011-2012 and is in line for a "mini maximum" contract extension once he completes his rookie deal. At 22, Rose has missed just four games during his 3-year NBA career.
In other words, he's still young enough, he doesn't face any larger-than-normal risk of injury and he doesn't have a huge amount of guaranteed money already committed to him. The only real risk here is jeopardizing his future earnings, which will be massive but won't be known until after the ongoing lockout is resolved.
This all boils down to whether it's worth sitting out a full season so as not to compromise a $70 or $80 million contract that will surely come down the pipeline? Honestly, his next contract is as good as guaranteed future income at this point. It's his money to lose. The Bulls will offer their franchise point guard the maximum allowable contract on the first day that it is legal. The best thing for Rose to do would be to work on his cardio and hole up in a padded house. The lockout is a bummer but the future for Rose's Bulls in Chicago, whenever it takes place, couldn't be brighter.