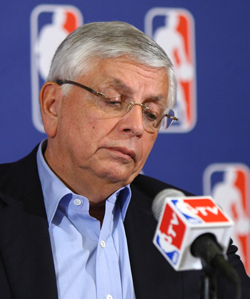 By Matt Moore
Ken Berger of CBSSports.com reports:
Owners have indicated a willingness to drop their insistence on a hard team salary cap in exchange for adjustments to the luxury tax system and key spending exceptions, two people with knowledge of the negotiations told CBSSports.com Tuesday night.

The offer by league negotiators came Tuesday in a brief, two-hour bargaining session that set the stage for what one source described as "an important day" on Wednesday.

"It's put up or shut up time," said the person, who is connected to the talks but spoke on condition of anonymity due to the sensitivity of the negotiations.
via
Sources: Owners drop insistence on hard cap - CBSSports.com
.
We're starting to see a pattern with how these negotiations are going. The smaller groups meet together, and a lot of progress is made. Both sides come out with compromise, new ideas, and a move towards a deal. Then the two sides bring their respective constituencies in to talk about it and everything falls apart. In esseence, everything goes fine in the owners-players conversation until you involve the owners and the players. It's pretty much all downhill from there.
With talks expected to extend Wednesday before both sides break for the Jewish holiday Rosh Hashanah, that leaves both sides with several days to
damage and deconstruct any and all progress made this week
as the hard-liners break apart on the details. It's been known for a while that the only way a deal is done is if both sides can get the moderates behind the wheel and move the extremists back to the fringes. The question is which side will tear it down?
It was reported last week that Robert Sarver and Dan Gilbert were the two owners leading the charge against the progress made. Meanwhile, a contingent of the players' agents have been making it clear that while they may be behind the union's leadership as long as their priorities are in place, if they feel the deal isn't the best for their clients (and by extension, themselves), they'll pursue other options. The most likely candidate to bring things back to square one has to be the agents, since the players have given up more so far in the talks and the threat of decertification still dangles over the talks.
With the hard cap having become flexible from the owners' perspective and the BRI cut being a liquid issue for the players, there's a window open which could save the start of the season. But with both sides occupied by forces which have their own interests firmly prioritized over getting a deal done to give the fans, players, and owners a season, it's hard to see the sunshine brought out Tuesday night becoming daylight. It's a waiting game to see which side decides to screw this up first.