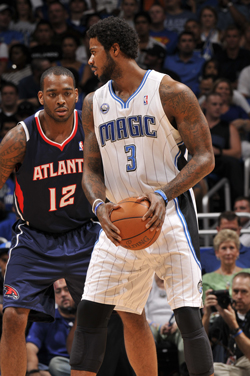 Posted by Royce Young
Earl Clark
was one of the first players to sign in China, despite the scary looking "no NBA out" thing. And yet, somehow, Clark is on his way back to the United States as he's left his Chinese club, Zhejiang Guanghsa.
Obviously there's no NBA season yet, but Clark's back to being an unrestricted free agent.
His agent Happy Walters confirmed to HoopsHype
that Clark had left, with the reason being "personal reasons," which is actually his girlfriend being pregnant. Initially, the word actually was Clark left because he "couldn't get used to Chinese food."
"They have been very cool and cooperative about it because they understand the reasons," Walters said to HoopsHype.
Now, you're asking yourself: Wait, i think Clark didn't have an NBA opt-out clause? I thought he couldn't leave until his contract was fulfilled?
NIUBBall has a great explanation as to why
:
Technically, yes that's true. But you forgot to consider an important point — this is the CBA (Chinese Basketball Association)! Despite what the language of a contract may say, there are no such things as "guaranteed contracts" and "no out-clauses." When it comes down to it, no team is willing to pay and play an import that doesn't want to be here. With China's paper thin pool of domestic talent, imports are relied heavily upon to be the focus of the offense and put up huge numbers. If a player doesn't want to be here, there's no reason for a team to keep him on board only to see his performance decline on the stat sheet and the team's losses stack up in the standings.
So players like
Kenyon Martin
,
Wilson Chandler
and
J.R. Smith
in reality could just take off any time they're ready. Cite some personal reasons and take off. You may have to buy out a little of your own contract but the truth is, you're not bound to China for a full season. That goes against the way it sounds, but we all kind of knew that there would be a way out.
Why put the no NBA out clause in place then? NIUBBall wisely points out that it's more of a preventative measure than anything else.
The rule wasn't put in to guarantee that guys like Earl Clark stay the whole year, but rather more as a preventive measure to avoid the insanity that would have ensued if NBA superstars like Kobe Bryant and Dwyane Wade had signed in China. In the CBA's eyes, superstars in China wouldn't have raised the level of the National Team, something that the government run league takes very seriously. Plus, having big-name players in China for a month or two only to see them jet back to the States once the NBA lockout ended was not a scenario the CBA ever envisioned as positive for the development of its league.
The first question I asked myself though was, "Is Earl Clark hearing good news brewing on the NBA front and he decided to come home?" That might be a stretch, but whatever the case is, he's out of China when supposedly he wasn't going to be able to get out. And if the NBA finds itself and has a season, you can be sure that Wilson Chandler, Kenyon Martin and J.R. Smith probably will have some "personal reasons" that need to be addressed.