Posted by Royce Young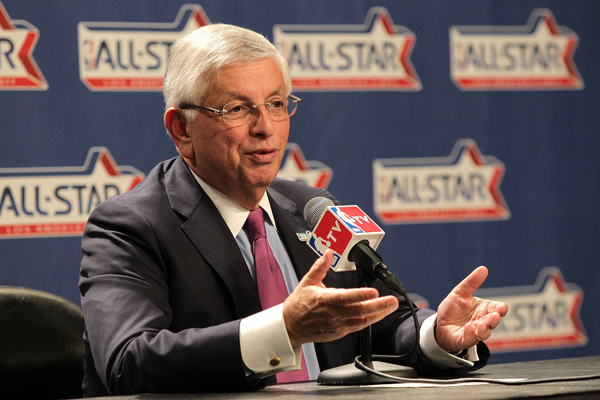 David Stern supposedly was in a very threatening, do-or-die type of mood after Wednesday's labor talks. Reportedly, he's laying the NBA season at the feet of the players telling them it's now or never.
While the NBA refutes that
, and indeed it does seem unlikely, the reality is there. Get a deal done now or the NBA regular season will be altered.
Which is why there's more of a sense of urgency now than there's ever been.
Consider this quote from a team president talking to Yahoo! Sports
:
"[Stern's] going to make a real hard push to get a deal this weekend. If the union makes a slight move, David will move. But the players have to blink first."
It's obvious that everyone understands what's at stake. Not just regular season games, but you're risking major momentum and therefore, major money by not getting a deal done. Fans aren't automatically going to just come sprinting back to a game where the players and owners are so greedy that they're willing to sacrafice games. Jeff Van Gundy made a great point to the Star-Ledger about that.
"Face it, whether you're an NFL season-ticket holder and have to buy 10 games, it's on weekends and Monday nights — it's predictable, it doesn't change your lifestyle," he said. "Even the fans of the worst (NFL) teams don't complain; they're coming back, because it's a weekly tradition.

"But the season-ticket holder in the NBA is different. People split the package. It's a major time and financial commitment. I'm not trying to be gloom and doom here. It's just that people don't have the disposable income they used to have, and it's not like they're pining for NBA basketball. I just worry at some point — I know at some point — that some sport will go too far. It just will. Whatever that entails."
The NBA's playing with fire and Friday has been set up to be the day it either gets burned or the flame is put out. Clearly the owners and league have to save face with the negotiations. It's a little bit of a game of chicken, waiting for one side to blink. But the owners are the ones who started this lockout. And if they come out of it with little to nothing, they'll have some serious egg on their face. Owners don't like that.
If the players will bend a little more this weekend, that could start everyone down a path towards a deal. The owners don't WANT to lose a season. The players definitely don't want to. But they want to get something out of this new collective bargaining agreement and if both sides can come out of Friday kind of feeling like they are, maybe we'll have something.
Maybe.