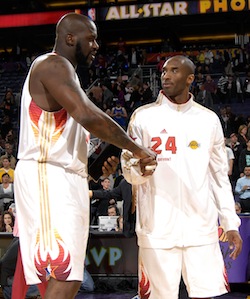 Posted by Royce Young
Kobe Bryant
and Shaquille O'Neal got along -- for a while. They won three titles together,
produced one of the NBA's most memorable moments
and maybe were the most feared duo in NBA history.
Then it all fell apart. Depending on who you listen to, it was Kobe's fault. Or it was Shaq's fault. Whatever the case, Shaq was sent to Miami and the
Lakers
were Kobe's all to himself.
Shaq then kind of went on the offensive, razzing Kobe at every opportunity which fired up one of the weirdest feuds I can remember, capped with
Shaq's infamous "Hey Kobe, tell me how my a-- taste" rap
.
Well, Kobe's in Italy doing promotional stuff for Nike and he was asked about Shaq and his relationship there.
Via Sportando
, he definitely did not choose to take the high road.
"I like players who work for 6/7 hours per day. I cannot tolerate players who practice just for 30 minutes ... If you don't workout, I need to tell you something."
It's not exactly news that Shaq didn't have the most tremendous work ethic ever. Heck, I think even Shaq would mostly agree with that. Between rapping, movies, policing and whatever else he was involved in, Shaq had a lot of other stuff going on besides basketball. Kobe on the other hand, was all basketball, all the time.
I'm sure Shaq will have a response to this, because that's what Shaq does. Nothing's going to slip by him.
Lost in Kobe's Shaq comments is that
he committed to playing in the 2012 Olympics
, but who cares? He said something about Shaq!
Via I Am A GM