Posted by Royce Young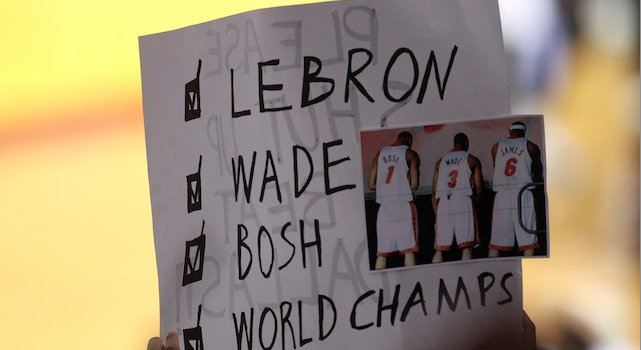 Chemistry isn't just something that Walter White is good at. It's a basketball buzzword, that hidden ingredient that can supposedly take a good team straight to greatness.
Build a team with talent, add a good coach and make sure they all like each other and you've got a recipe for good things. Isiah Thomas had chemistry as a major part of "The Secret," which is the secret formula to winning. The right mix of stars, role players and quality chemistry means success.
Everyone embraces that idea. Everyone agrees that it's better to like your teammates than not. Everyone knows that if you've got two guys on the floor that hate each other's guts, it's going to affect their ability to win.
But the question is, how
much
does it matter? And moreover,
why
does it matter?
Dwyane Wade
admitted this week that he feels the real reason
the
Mavericks
topped his super-loaded
Heat
team is because they were mixed better. He said, "One thing that Dallas beat us at – they had more chemistry than us. They had a game plan and we were still figuring ours out in our first year together."
Chemistry can kind of be a cop-out though. When you're losing and things are working right, it's easy to just say, "It's our chemistry, man." The Heat certainly lacked a feel for each other at times. Between LeBron and Wade, it was a teeter-totter on who got the ball with
Chris Bosh
awkwardly hanging in the balance. It was really a basketball science fair project. The Heat were putting the limits of basketball chemistry to the test and I suppose they failed since they lost, but there's always time to improve.
Wade's referencing on-court chemistry though. What about just general locker room mood? The off-court chemistry. Is it equally as important? Here's the thing: I think with one, comes the other. If you get along off the court, you're likely to get along on it. I'm not totally sure it works the other way -- see: Kobe and Shaq -- but it's always better to like the guy next to you rather than not.
What made me really start thinking about it
was the supposed rift
between
Russell Westbrook
and
Kendrick Perkins
. The
Thunder
-- a team known worldwide for their outstanding chemistry -- traded away
Jeff Green
, a player
Kevin Durant
, Westbrook and
James Harden
referred to as a "brother," for Perkins.
The Thunder really we the ideal model of "The Secret," except for one flaw: Jeff Green really isn't good, at least not where the Thunder were playing him. So general manager Sam Presti risked chemistry trading away brother Jeff to bring in a big, burly, scowly center.
With the Perkins/Westbrook supposed scuffle, the fact is, chemistry is important, but really mostly when you're losing. It's easy to stick together when you're winning. But when you lose, things get tested. That's really where it affected the
Celtics
most. Nothing was wrong with them except their heads were shaken after Perk was dealt. And when they started slipping, they had actual evidence for why they were sulking.
See? We need Perk!
Maybe with Perk in the locker room, the Celtics would've been able to stay together. Maybe because he was gone, the team went into a funk and stopped trusting each other. Who knows. Chemistry certainly matters, but mostly when times are bad. What happens to the Thunder if they start next season 5-11 or something? Will fingers get pointed? Will Perk and Westbrook clash more? Will Durant have to try and put his foot down? It's all rosy until it's not.
Here's how important Jeff Green was to the Thunder: Presti actually
cried
during the press conference announcing the deal. If you want to know about team chemistry, the Thunder with Jeff Green were the model. Every player loved each other the same. All that Westbrook vs. Durant stuff was yet to come and honestly, it might've never surfaced if Green had stayed on the roster. He was the most veteran of their young core, the steady, calming influence.
But Presti obviously was ready and willing to risk that chemistry for the sake of bringing in a player that actually strengthened the roster. Not that Perkins was some kind of bad guy that couldn't get along with teammates. In fact, his relationship with the Celtics was almost exactly the same thing as Green in OKC.
The Celtics were shaken when Perkins was traded. Ainge dared to mess with Boston's brotherhood and in the end, paid for it. Was it because the chemistry was shaken or just because the team was kind of a mess, considering Perkins was replaced by
Nenad Krstic
, a broken Shaquille O'Neal and
Jermaine O'Neal
. Ask a basketball chemist and it's because Ainge tinkered with the winning locker room formula. Maybe it's a case by case thing, but clearly the Thunder were able to move past it. In the end, it was more about matchups, ability and rosters, not some imaginary force where friendships when games.
It all matters to a degree when you're trying to win, but chemistry alone doesn't win, both on and off the court. Chemistry's just one of the ingredients in the larger recipe for winning.