Posted by
Ben Golliver.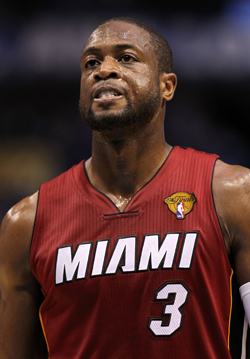 Miami
Heat
All-Star guard
Dwyane Wade
is set to bring in a salary of $15.7 million in the 2011-2012 season. According to Wade, the value of an NBA superstar is such that he might make more than three times that salary if the league didn't have a salary cap in place.
Yahoo Sports asked him
what the going rate for a franchise star would be. Here was the response.
"I'm sure it would get to $50 million," Wade told Yahoo! Sports on Wednesday afternoon.


"In terms of driving revenue, if the NBA had no cap, the compensation would be totally different," Wade said. "Like baseball, where they have no cap, you see the players that they feel fill arenas, that people come out to see, A-Rod, those kind of guys, look at how much money they make on their deals.

"You've got guys – starting with Michael Jordan, Shaquille O'Neal, and Kobe and LeBron – all players that individually people wanted to come to see. And wanted to just have a glimpse, just one glimpse, to be able to say that I've seen that person play. For what they've done for the game, what they've done for organizations, I don't think you can really put a dollar amount on it."
The only real flaw in what Wade said is that perhaps he lowballed the number. If the Los Angeles
Lakers
, Boston
Celtics
and Chicago
Bulls
, or billionaires like Mark Cuban and Paul Allen, were able to get into a bidding war for the services of Wade or
LeBron James
unemcumbered by a salary cap, are we sure that $50 million per year would be the highest bid? Given how one star player can change an entire team's trajectory and global profile, it seems reasonable to guess that the number could go higher, perhaps much higher.
Unfortunately for Wade, his comments, which are economically accurate, couldn't come at a worse time. The NBA and the National Basketball Players Association are set to meet Friday to continue a crucial stretch of talks that will determine whether the 2011-2012 season starts on time. For many, Wade's comments, because he is a star himself, will read as whiny complaining: "I'm underpaid."
That message, even if that's not actually what he said or meant, hurts the image of all NBA players and the union's leadership, which is tasked with holding all the disparate interests of the players together. It's also the last thing anyone wants to hear when they must face the fact that their favorite team might not take the court like normal come November. All of a sudden, the guy who sells out the entire arena thanks to his fame starts to look an awful lot like a scapegoat.
Crying poor is never a winning plan for a millionaire. Not in this economy and not with the amount of money NBA players are taking home. But Wade didn't do that here. All he said was that superstars would make significantly more money if there was no salary cap. Whether the average person or casual fan reads closely enough to realize that, though, remains to be seen.