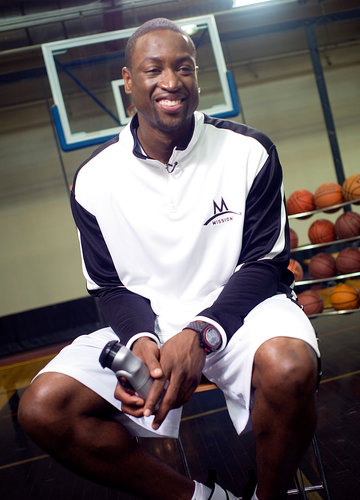 Posted by Royce Young
Remember those shoes that had springs in them
and could supposedly make you jump higher? "Banned by the NBA!" Remember that?
Well there's a new innovation and
Dwyane Wade
is really repping it. Except this time, it's got the NBA stamp of approval. Basically, it's something that's supposed to cut down on slipping and sliding on the court.
It's called "Court Grip" and
according to the New York Times
, it's an "acetone-based solution that is designed to clean sneaker soles and restore their tackiness. The product was developed by Mission Athletecare, which brought in Wade as a partner."
Wade said of it: "I first tried it in Milwaukee, and I felt the difference immediately," said Wade. He says the product is "something that can change the game."
"My game is about traction," Wade said. "If I don't have that ground underneath me, it changes the way I play."
There's a reason why this is not like the jumpy shoes. Now, already the NBA uses an adhesive type thing to try and enhance court traction called "Slipp-Nott". Players generally step on a sticky pad at midcourt that pulls dirt and debris off their sneakers before walking on the hardwood. Wade says the effects of Slipp-Nott only last a couple of seconds though.
But if this product can reduce injuries caused by wet or slippery spots? I'm all for it. Stuff happens. People spill drinks. Arenas with hockey ice underneath sometimes perspirate. It's going to be available in every NBA arena next season, so it's not like anyone's getting an edge on someone else.
Wade helped design it and basically it's a roll-on deodorant/shoe polish type of thing that just adds a bunch of grip on the bottom of your shoes. Kind of basketball's version of pine tar, I guess. It doesn't actually make the sole sticky, but "increases adhesion with the floor." Somehow.
Every pickup player has another solution: Spit on your hands and wipe the bottom of your shoe. We've all done it a billion times when playing in some dirty gym. But supposedly this new polish could fix that. The creators of Slipp-Nott aren't a fan obviously, as their product could become obsolete. But I'm all for product advancement and Court Gripp certainly feels like progress.
Especially since Dwyane Wade says so.