Posted by
Ben Golliver.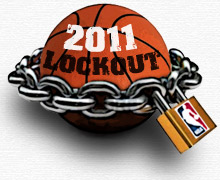 In 2006, shoe and clothing manufacturer adidas signed on to be the official jersey and apparel supplier of the NBA,
paying a reported
$400 million over 11 years. Now roughly halfway through that agreement, adidas is about to hit some choppy waters thanks to the NBA lockout.
The Oregonian reports
that while sneaker campaigns built around star players, like one launched by adidas for NBA MVP
Derrick Rose
this week
, are expected to flourish like usual during the ongoing labor negotiations, industry analysts are predicting that sales of team apparel such as jerseys, shorts and other items will take a massive hit if the NBA cancels games during the 2011-2012 season.
The paper quotes two experts, Matt Powell and Marshal Cohen, on the subject.
Apparel sales will be hammered by a lockout of almost any duration, a prediction that would be especially damaging to Adidas -- the league's official apparel provider.

Look for 50 percent fewer sales of jerseys and other paraphernalia for the duration of the lockout, Powell said.

And if the lockout lingers, the NBA, Nike, Adidas and everyone else in the basketball business will see declining sales across the board because of declining interest, Cohen said.

In that event, Cohen said, "people aren't playing as much, not thinking about it as much."
The NBA lockout has led to a league-mandated gag order with regard to contact between teams and current players, and team websites have been scrubbed of references to current players.
The NBA's official store
welcomes online visitors with the option of customizing a jersey of a fan's favorite team and does not have any images or links to players on its main page, although jerseys of current players are still available. Obviously this stands in stark contrast to usual practices, which would see highly marketable star players like
LeBron James
,
Dwyane Wade
and
Kobe Bryant
front and center.
While any NBA owner can calculate how much extra money he will take home if the Basketball-Related Income split is rejiggered or if games are missed and player salaries don't need to be paid, it's a much difficult proposition to gauge the longer-term financial impacts of a lost season. The secondary and tertiary spending on things like memorabilia aren't as important as ticket revenue or television revenue, but, still, tens of millions of dollars are at stake.