Posted by
Ben Golliver.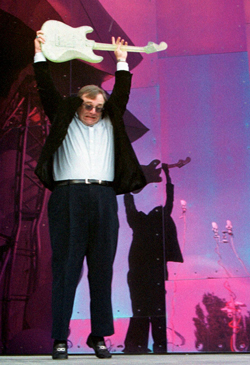 Portland
Trail Blazers
owner Paul Allen has been on some kind of trip lately.
Over the last 18 months or so, Allen, who co-founded Microsoft, has: beaten cancer; written an autobiography that trashed Bill Gates so badly that Gates stopped speaking to him after decades of friendship; watched his helicopter crash near Antarctica;
listed a private island
for sale; and fired two general managers and a vice president of basketball operations for the Blazers. Now, Allen can add to that list: he has officially been sued by his own bodyguards, who allege that he engaged in "unethical and illegal" activities.
SeattlePI.com reports
that four members of Allen's security team, including a former FBI agent and a Navy corpsman, are bringing suit against Allen and his company, Vulcan, Inc., in an employment dispute.
The former security director for Vulcan Inc. and three security officers who resigned in recent weeks have sued the Seattle firm claiming they were pushed out after they saw unethical or illegal activities by company executives, including Paul Allen.

While the allegations of wrongdoing remain vague, documents filed in King County Superior Court contain claims of ethical problems and misconduct within the company. One former lead bodyguard said she was forced to resign after the "acts (she) witnessed and had to engage in perform (her) job" compromised her ethics.
Much to our collective chagrin, the illegal and unethical activities allegedly perpetuated by Allen and his sister, Jody, who is also a Vulcan executive, are not explained in any meaningful detail.
That leads us to a fun, speculative exercise: brainstorm all the possible illegal activities that an antisocial, middle-aged, unmarried, rash computer dork with unlimited resources, multiple yachts, helicopters and mansions, who is known to fraternize with rock music stars and travels everywhere with a security staff packed with ex-military officers could get into. The list goes on forever. It might be easier to work backwards and just list the illegal activities that wouldn't appeal to him. Jaywalking. That's pretty much all I can come up with.
Allen
was recently ranked
as the No. 23 richest person in the United States by Forbes.com. Dollars to doughnuts this lawsuit ends with an undisclosed financial settlement out of court. For the time being, Vulcan reportedly denies any wrongdoing and refuses to comment.