Posted by
Ben Golliver.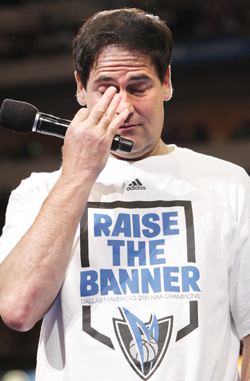 As the NBA lockout enters its fourth month, fan resentment towards millionaire players and billionaire owners unable to get a deal done continues to increase. Miami
Heat
All-Star guard
Dwyane Wade
set off a firestorm
this week, for example, when he said that elite players would be worth far more than they are currently paid if there was no salary cap.
Lost in that fray was one voice who was ready, willing and able to stick up for the billionaire owners. That voice belonged to Mark Cuban, the billionaire owner of the 2011 NBA champion Dallas
Mavericks
.
Cuban joined Stephen Colbert on Comedy Central's
Colbert Report
to defend his fellow billionaires, noting that he is "proud" to call himself a billionaire.
"We're kind, we're caring," Cuban explained. "We're the type of person that you want your daughter or son to marry. We're just down to earth people. Look at me. I'm nice."
One problem with being so rich and so nice, apparently, is that it makes you a target for gold diggers. Cuban, who has a net worth of $2.3 billion
according to Forbes.com
, admitted that he regularly fends off requests for donations from politicians.
"All the time. I get phone calls, emails, letter, FedEx, UPS, everything ... They see those big stacks of money all the time. I haven't given to a political campaign or politician in years."
But no amount of political begging or labor negotiating can mar the thrill of winning an NBA title for the first time.
"After 12 years now, we finally won, and it feels great," Cuban said, smiling widely. "They told me year after year, 'you're an idiot,' and here we are, champs."
Here's
video of the interview via ColbertNation.com
.
The Colbert Report