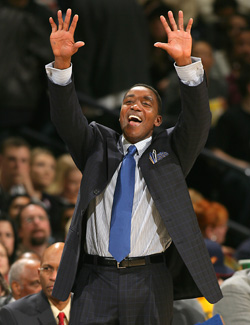 By Matt Moore
If William Wesley is the silent power broker of the NBA, Isiah Thomas is kind of becoming the opposite. He's the power broker who talks all the time. Thomas
is, to no one's surprise, behind the charity event being held
next Saturday night at FIU (where he coaches) that featurs a cavalcade of NBA All-Stars. And as part of his promotion for the event, he talked to the
South Florida Sun-Sentinel
about a range of topics, including why it is that so many people hate
LeBron James
. Naturally, it's not because of "The Decision" or the perceived egotism or the lack of clutch play or the void of championships or the post-game comments about people going back to their lives after the Finals. No, no. It's becaue he's been so successful, you see, according to Thomas. From the
Sun-Sentinel
:
"It kind of comes with the territory when you're really good," Thomas said. "Nobody cares about the loser. Everybody likes the loser.

"Some people are not going to like you because you are successful and I think LeBron has been extremely successful since high school and Wade has been successful and I think those guys will continue to be successful. And with their success, there are going to be some people who are upset with that."
via
LeBron James NBA lockout game at Florida International University has Isiah Thomas in the middle of it all - Sun-Sentinel.com
.
Thomas continues to foster relationships with the biggest stars, like running interference for James publicly, on his way back to the top.
Chris Paul
, who reports have linked Thomas to in an effort to recruit the point guard to the
Knicks
in 2012, is scheduled to appear at the game along with
Carmelo Anthony
and
Amar'e Stoudemire
. If you're a
Hornets
fan, this entire scenario has to make you ill.
So is Thomas right? Is the backlash against James strictly a reaction to all of his success? That's unlikely, given that Michael Jordan is the most popular basketball player of all time and all he ever did was win. Instead, it's the fact that success doesn't seem to be James' primary goal that seems to irk people. Whether it's his own ego, becoming a global brand, having a good time, or making friends, there always seems to be another priority for James. And while versatility and diversity in life are things we admire in mere mortals, as a public, we tend to despise athletes who aren't obsessed with winning.
It's not that James is successful. It's that he doesn't care about being successful enough.