Posted by
Ben Golliver.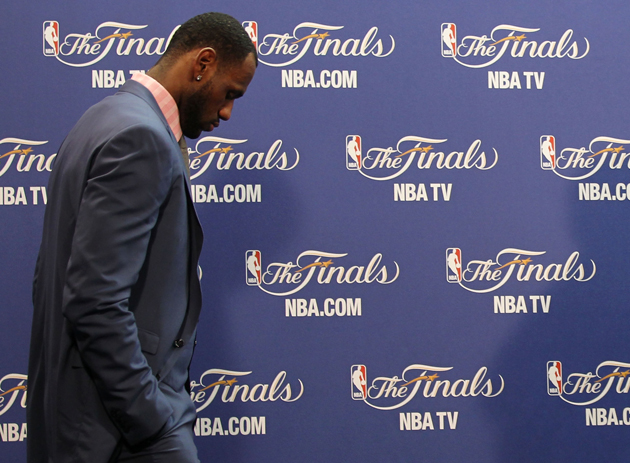 The first title has to be clean.
When you're playing with an eye towards history and your expressed purpose is to serve as the NBA's next great dynasty, the first championship won't be compared to just any old title.
No, it will be judged against the first titles won by previous legends and it will have to stack up on some key criteria. The title must come against top competition. The title must be secured with the franchise player leaving his stamp on the key moments. And, most importantly, there can't be any loopholes or asterisks. If prospective basketball
Kings
eye immortality, those criteria are nonnegotiable.
The greatest to ever do it, Michael Jordan, won MVP all six times he went to the NBA Finals. Along the way, he knocked off an entire generation of stars: Charles Barkley, Clyde Drexler, Patrick Ewing, Reggie Miller, Karl Malone, John Stockton, Shawn Kemp, Gary Payton, and the list goes on. In securing his first title, Jordan knocked off the defending champion Detroit
Pistons
in the Eastern Conference Finals and sent home arguably the greatest player of the 1980s,
Magic
Johnson, in the Finals. Jordan averaged an astonishing 31.2 points, 11.4 assists, 6.6 rebounds, 2.8 steals, 1.4 blocks and shot 55.8 percent from the field in the five-game romp over the
Lakers
.
That's clean. Just try to pick nits over that. The fact that the Pistons stomped off the court in defeat and Johnson graciously passed the torch only adds to the legend. That's clean.
Johnson's own story is nearly as strong. As a rookie, he won Finals MVP for leading the Lakers past a loaded Philadelphia
76ers
team with center Kareem Abdul-Jabbar sidelined with an ankle injury. Just 20-years-old, he famously played all five positions in the deciding game, putting up 42 points, 15 rebounds and seven assists, and secured the title on the road, sending Hall of Famer Julius Erving and company home empty-handed. Pretty damn clean.
Rookie Bill Russell grabbing 32 rebounds in Game 7 of the 1957 Finals for the Boston
Celtics
to defeat the St. Louis
Hawks
, led by Hall of Famer Bob Pettit. Clean. In 1981, Larry Bird nearly averaged a triple-double -- 15.3 points, 15.3 rebounds and seven assists per game -- and memorably rebounded and reloaded his own miss in mid-air for one of basketball's greatest highlights in defeating the Houston
Rockets
, led by Hall of Famer Hakeem Olajuwon. Clean.
For immortality, that's the standard. Sure, it's nearly impossible to match, but if we're talking about "not one, not two, not three, not four" levels of greatness, that's what you're up against. The performance must be unimpeachable.
With the notable exceptions of guard
Dwyane Wade
, forward
Udonis Haslem
and president Pat Riley, 2011-2012 is shaping up to be the first title for all the key members of the Miami
Heat
.
LeBron James
.
Chris Bosh
. Head coach Erik Spoelstra. Whichever cadaver is brought in to play center. And, really, if we wind up talking about a Heat dynasty 20 years from now, 2006 won't be mentioned, except with regard to Wade. All that will truly matter is how many rings get stacked up over the next 6-to-8 years.
That's especially true for James, who has the best shot at joining basketball's all-timers. The last thing that James needs at this juncture, then, is an asterisk. And a shortened season is about as big as asterisks come.
Nothing says impeachable quite like winning a title in one of only two seasons in the past forty that were played with less than 82 games. Nothing says loophole like jogging through a 50-game spread against opponents in varying degrees of condition and then suiting up for a playoffs that very well could include a bunch of teams that shouldn't be there. All six of Jordan's titles came in 82-game seasons; all five of Johnson's titles came in 82-game seasons; all three of Bird's titles came in 82-game seasons. If James wants to climb that mountain, and he should, he's being handed a tough trail.
James, already with more detractors than he can handle, will be damned if he does, damned if he doesn't if a single NBA game is canceled, as is expected to be announced later this week. James was already held to a higher standard than your typical NBA superstar, but, title-less at age 26 and coming off of back-to-back summers in which he alienated vast swaths of basketball fans with the "Decision" and then dramatically collapsed in the 2011 NBA Finals, pressure and expectations have only mounted. To win a title in any way except in pristine conditions and through overwhelming statistical production will not suffice. "Yeah, he won, but it was a lockout," critics will say. "MJ never needed a short season to win a championship."
The expectations James feels are mirrored by those facing his organization. After the preseason parade, the "teaming up," the "taking their talents to South Beach," and the instant success reflected by a Finals run in their first year together, Miami badly needs revenge and redemption. But neither revenge nor redemption will taste sweet if everyone is harping that it "doesn't count" because of the work stoppage.
If James and the Heat do take home their first title in June, it won't be enough. Their only hope is to keep winning, a lot, stacking up enough jewelry so that the "lockout title" is no longer worth mentioning. Until that happens, "sure, he won three (or four, or five) titles, but…" will follow them like a pox. Because the doubts don't stop at multiple rings. Just ask Olajuwon, who won two in the 1990s. "But Jordan was playing baseball." The doubts don't even stop at five. Just ask guard
Kobe Bryant
. "But it was Shaquille O'Neal's team for the first three." Paradoxically, then, winning this season could serve to increase expectations for the Heat rather than satiate them. Winning to prove that winning wasn't a fluke is a vicious cycle.
The Heat and their fans will likely respond to this line of argumentation by saying that they don't care about what outsiders think. That history can only be written one season at a time and that it would be better to win a title and get the monkey off the bag. That's the right approach. But, deep down, they want their first title of the modern era to be indisputable more than anyone else. They've been through the fire, they've suffered through the media circus, they've absorbed all the criticism. James surely wants to bathe in champagne like a care-free child knowing that he put decades of doubt to bed once and for all.
And, surely, as a student of the game, he knows that's impossible in a shortened season. If one game is lost, it might as well be all 82 for Miami. Labor negotiations are a dirty game, and a corrupted 2012 NBA title could never be clean.