Posted by
Ben Golliver.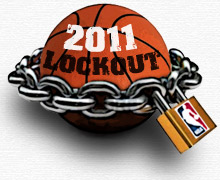 The back and forth between the National Basketball Players Association and a group of powerful player agents continues.
On Monday, a group
of six agents sent a letter to their clients urging them to hold a hard line on several key bargaining issues and to avoid being railroaded into a rushed labor deal by the NBA's owners.
Late Monday night,
the Associated Press published a response letter
from NBPA president
Derek Fisher
, which directly addressed the letter sent earlier by the agents.
The letter however includes misinformation and unsupported theories.

As you would imagine, the agents are not aware of my seeing this ahead of its release. As a player myself, I know that each player should read everything we can. My emails, media reports, letters from their representation, to form an opinion on the situation. Educate yourself, ask questions, do it all. But not all of what you read is fact, you know this, I know this.

One issue I need to again be very clear on...nothing can be accepted without a vote by the players. If and when there is a proposal that we feel is in the best interests of us as players, each of you WILL have the opportunity to vote in person. It's in the union bylaws, it's not up for negotiation. You will have the opportunity to see the full proposal before you agree, you will be able to challenge it, question it, anything you feel appropriate in order to know that this is the best deal for you and your fellow players.
Fisher also made a point to defend the NBPA's unity on the key issues.
Everyone in the regional meetings, Friday's player meeting, and throughout this process has been in support of the position the NBPA has taken. We go into tomorrow's meeting strong, remaining steadfast on the issues we will not be able to move away from. Anyone saying different is not privy to the meetings and is uninformed.
Fisher's response is clear, fair and straightforward, but the fact that he is spending precious time trying to keep his union members in line in the hours leading up to what both sides agree is the most important day of negotiations is not a good sign. A truly united front from the players is necessary to reach the best possible deal with the owners. As of right now, segments of the players appear to be on different pages, with agents threatening to
push to decertify the union
and
SI.com reporting
that NBPA executive director Billy Hunter could come under fire.
This correspondence is another volley in a war of words that has gone on between Fisher and these agents for nearly a month. Back in September, Fisher pointedly rebuked the agents in
another letter
sent to all NBA players.