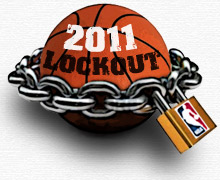 By Matt Moore
We've told you that previous meetings were relevant, were important, were key. And each one has yielded the same result: both sides sayng they were still too far apart, talks will resume tomorrow or in a few days. So forgive me for over-emphasizing this.
Tuesday's the day
.
Monday night, each set of parties will go to sleep in preparation of Tuesday's NBA lockout negotiations, which are expected to decide whether games will be lost and likely how many. The players will sleep comfortably. They'll have a measure of anxiety for their livelihoods and their careers, sure. But they'll be resting on 500 count sheets, unperturbed by any real consequences. Losing a few games just means an unpaid vacation. The game will be there when they get back. The agents will sleep the sleep of wolves. Knowing you're the thing that goes bump in the night has its advantages. The owners may be coming for their money, but this is a challenge to be thwarted, as is their perception that Billy Hunter has lost control of the fight. (The agents who are not part of the plot are just along for the ride, unfortunately.)
And the owners? The owners sleep the sleep of babes.
Maybe there really is a healthy conversation being held in the owners' meetings. Maybe they arrived at their hardened stance after hours and days of tense and lively debate over the best way to rectify the economic lapses in the system they signed off on. It's possible that they've really been down every road, listened to every argument, embraced every alternative until they were left with nothing but this, the scorched court policy.
But it doesn't seem that way, feel that way, or sound that way.
Every indication is that the owners go to sleep Monday night fully aware that they are likely setting the league back by upwars of a decade, that they are crushing something that bring joy to millions, that they are stomping on the legacy they inherited when they plunked down their change for the right to courtside seats and a number of player headaches. They are aware that their decision will cost people jobs they need, part-time money they need, diversions that make life more fun, and boost local economies. They are aware that there's no decent compromise they're seeking, only total and complete conquest in this dispute.
And every indication is that they could not care less. You have to look out for yourself in this world, apparently.
David Stern goes to sleep with the knowledge that Tuesday will bring with it a judgment upon his term as commissioner of a professional sports league. Failure to bring the owners off the fortress walls or to somehow shakedown the players into what will be a crushing deal for them would represent a phenomenal failure for Stern in his duties to, you know, run the NBA. He will have done his job in protecting the interests of his board and in doing so sacrificed the good the NBA brings with it. Not just from a sports perspective, or economic, but from the lost charity work, the goodwill, the positive influence on young people and every other impact. He will have watched over the league as it costs a year in the careers of promising young athletes like
Blake Griffin
and
John Wall
, as it robs history of one of the final years of
Kobe Bryant
and
Kevin Garnett
.
Big king-sized beds for men of wealth and fame, all.
Tuesday the sun comes up, the gloves come off and the lockout will sort them out. Odds are we're headed towards regular season games missed, maybe months, maybe the entire year, along with a lengthy court battle, ugly internal strife in the union, and no professional basketball. It's difficult to see any other result coming out of the boardroom tomorrow in New York. Even the optimists like Ken Berger
are staring down the barrel of missed games
. Cooler heads have not prevailed. Reason has not won out. It's Lord of the Flies time in the NBA Lockout and we're about to find out how ugly it will get.
Rome is burning but the Roman Senate sleeps soundly.