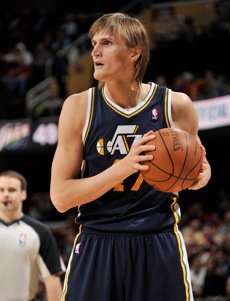 By Matt Moore
The
Salt Lake Tribune
reports that free agent
Andrei Kirilenko
has signed a three-year contract with CSKA Moscow
in his native Russia. The deal reportedly includes an opt-out for Kirilenko to return to the NBA if and when the lockout ends.
Kirilenko is expected to re-sign with the
Jazz
once free agency starts, at a greatly lowered salary from the huge deal he just finished playing under which paid him $17.8 million in 2010-2011. Kirilenko never really lived up to the promise he became a do-it-all forward. It was expected that Kirilenko would develop into the kind of overall product that
Lamar Odom
is at times for the
Lakers
, but injuries and role issues have made him largely irrelevant, not to mention the complexities that have existed in Utah over the past several seasons.
The key here is Kirilenko's opt-out. As a free agent, it was conceivable that he would simply head home and be done with it, but the opt-out ensures he'll be back. If Kirilenko doesn't return to the Jazz, he'll become one of the better free agents on the market, despite that disappointment over the past several seasons. At 30 his best seasons are behind him, but he can contribute enough to garner significant interest from multiple teams on an open market.
Assuming he's still 30 when we actually
get
a free agency.