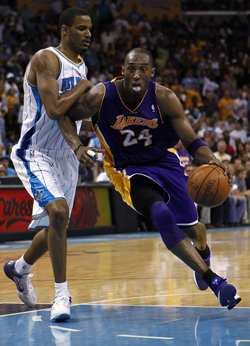 Posted by Royce Young
When something's "experimental," unless it's going well, there's probably reason to be concerned. But
Kobe Bryant
, who underwent platelet-rich plasma therapy on his arthitic right knee, seems to be progressing extremely well from it. Via the L.A. Times:
Anecdotal evidence suggests that Bryant has more energy this offseason than during last season's playoffs, when the arthritic joint in his right knee and a sprained left ankle often hobbled him. Bryant scored 43 points and hit the game winner at a Drew League appearance. He performed a 360-degree dunk at his camp. Lakers guard Derek Fisher said he considered Bryant "healthy" after playing with him in a pair of exhibition games in the Philippines in July.
But that's just surface stuff. We won't really know how good Kobe's knee feels until it's tested night-to-night in an NBA season. Know this though: The guy that's performing this therapy, Dr. Peter Wehling, also treated Pope John Paul II,
Tracy McGrady
and Fred Couples. Wheling actually told ESPN.com, "I am the only one to have found a way to cure arthritis." That's a pretty good resume.
How does this treatment work?
According to ESPN.com
, Kobe's blood was treated to "isolate growth factors that attack inflammation, and then cultured with chemicals to increase their potency before being injected into his arthritic right knee."
Kobe is 33 and his knee was one of a few issues he struggled with all of last season. Kobe, being the bulldog that he is, fought through swelling and constant treatment to play in all 82 games. But with this treatment that apparently seems to be working, Kobe should be able to play not just in all 82, but in all 82 with some level of comfort.
The 360 dunks make a pretty good statement that he'll be ready. And the fact the guy treated the Pope and evidently cured arthritis are pretty good ones too.