Posted by
Ben Golliver.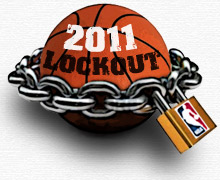 The National Basketbal Association and the National Basketball Players Association met for more than four hours in New York City on Tuesday, in what had been hailed as the most important day of negotiations to date, and emerged aroung 5:30 p.m. without an agreement.
Ken Berger of CBSSports.com
reports
that NBPA president
Derek Fisher
announced: "Intense discussions today ... today was not the day for us to get this done."
NBA commissioner David Stern said that the league's 2011-2012 schedule will be affected by the lack of progress in the negotiations: "Today we will be announcing the cancellation of the rest of the exhibition season and by Monday we will have no choice but to cancel the first two weeks of the season."
Fisher said no further meetings have yet been scheduled. The
Philadelphia Inquirer
reports
that NBPA executive director Billy Hunter said it could be "a month or two months" before the next round of meetings.
Fisher
said
that the players offered to reduce their share of Basketball-Relate Income from 57 percent to 53 percent but were still unable to negotiate a deal that was "fair and amenable" to the players, as the owners reportedly offered only to increase their offer to the players from 46 percent to 47 percent. NBPA executive director Billy Hunter said the players' concessions amounted to more than $200 million per year.
"We are employees and the NBA are the employers," Fisher
said
. "And they hold the key to when the lockout will be over."
Hunter
said
that, given the circumstances, the NBPA would reconsider the idea of decertification: "Clearly that's something we may have to give some thought to." While the players wait,
NBA.com reports
that Hunter says the NBPA will set up and fund workout centers in Houston, Las Vegas and Los Angeles that will remain open until a labor agreement is reached.
Los Angeles
Lakers
guard
Kobe Bryant
, Boston
Celtics
forwards
Paul Pierce
and
Kevin Garnett
, Detroit
Pistons
guard
Ben Gordon
, and NBPA board members
Matt Bonner
,
Maurice Evans
,
Keyon Dooling
,
Theo Ratliff
, and Roger Mason, Jr. were all in attendance at the press conference Tuesday.
This post will update with the latest on the NBA lockout.