Posted by
Ben Golliver.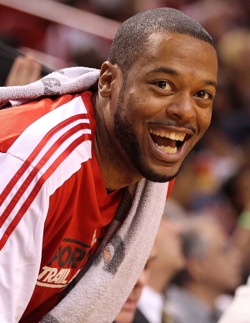 Marijuana charges against Portland
Trail Blazers
center
Marcus Camby
went up in a cloud of smoke on Tuesday after his cousin agreed to take the rap.
Camby and his cousin, Kendal Johnson, were arrested
back in September
after "marijuana cigarettes" were found inside Camby's Porsche during a traffic stop in a designated school zone in Pearland, TX. Initially, both Camby and Johnson denied the marijuana belonged to them.
The Oregonian reports
that Johnson would up copping to possessing the dope, which reportedly weighed in near an ounce, allowing Camby to walk free of all charges.
The marijuana possession charges against Trail Blazers center Marcus Camby have been dropped by the Brazoria County (Texas) district attorney's office and his criminal record has been cleared.

"For the record, Marcus Camby did not get charged with a crime and Marcus Camby did not possess any marijuana," Randall Novak, Camby's Houston-based attorney, said.

Johnson, 24, pleaded guilty Wednesday to a Class B Misdemeanor possession charge and paid a $1,500 fine.
The maximum penalty facing the pair was said to be one year in jail or a $4,000 fine.
Camby, 37, is entering the final year of a two-year contract extension that will pay him $11.2 million in 2011-2012. He averaged 4.7 points, 10.3 rebounds and 1.6 blocks in 26.1 minutes per game last season.