Posted by
Ben Golliver.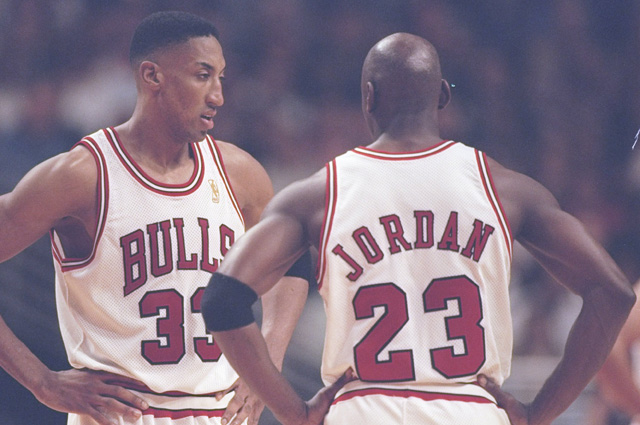 On the court, Chicago
Bulls
legend Scottie Pippen was relentless, a menace in the open court and as effective an on-ball defender as you'll ever see. In retirement, there's still no quit in Pippen.
More than six months after Pippen
put his foot in his mouth
by saying that Miami
Heat
forward
LeBron James
"may be the greatest player to ever play the game" and roughly four months after he
backtracked
, saying that his Bulls teammate, Michael Jordan, was actually the greatest, Pippen continues to waffle in his comparison.
MySharoni.com reports
that Pippen is now parsing the comparison in a new manner, arguing that Jordan is the greatest of all time but that James will wind up with better numbers when it's all said and done.
"My position is still the same," Pippen stated. "You're talking about a very young kid who came to the game at a very young age. Statistically, he will probably be the best player at the end of the day…based on the number of years he can get in, [he's a] super athlete, very versatile in a lot of ways."

Pippen added, "My comment was not meant to belittle the greatest player in the game—he has truly made his mark with his style, with his charisma, with his brand—but from a statistical standpoint, I think [LeBron] has great [potential] to be recognized as the best."
First off, is there any way we can lock out Scottie Pippen's mouth indefinitely?
Second: After a massive initial blunder, Pippen is finally, mercifully, correct in his assessment, at least the part about James finishing with better career numbers than Jordan. Jordan is, without question, the greatest basketball player of all time and so significantly better than James that the two don't belong in the same sentence at this stage of James' career. The only current player close to matching Jordan is Los Angeles
Lakers
guard
Kobe Bryant
and, even then, Jordan
wins out with ease
.
But James has the opportunity -- and has shown the capability -- to smash Jordan's statistical marks. Here's
a side-by-side comparison
to help tell the story. James already has 17,362 career points, 3,000+ more than Jordan had at the same age. He has 1,700+ more rebounds and 1,700+ assists too. Keep in mind that Jordan was 26, James' current age, before he took off the better part of two seasons in the prime of his career to play professional baseball. In other words, James has roughly a two-season head start on Jordan thanks to the fact that he entered the NBA straight out of high school (James entered at age 19, Jordan at age 21), he gained an extra year thanks to an early career foot injury that sidelined Jordan for almost all of the 1985-1986 season, and he will gain even more extra ground by the time he turns 32, when, barring injury, he will have had the opportunity to play in another 130 or so games more than Jordan did by the same age because of the baseball foray. Those 130 extra games go on top of the 200 extra games that James has already accumulated. That's at least an extra four seasons of production; that's a huge chunk considering that Jordan's career spanned just 13 full seasons plus portions of two others.
The only thing stopping James from passing Jordan is how long he can remain productive and, even then, it would take a catastrophe for that to get in the way. Jordan had big statistical output through the age of 34, and then emerged from retirement to play two additional seasons with the Washington
Wizards
that really amounted to 1.25 seasons or so of peak production combined. In other words, James needs only to last through the age of 36 -- 10 more seasons -- to ensure that he effectively lasts as long as Jordan did.
Because of his head start, James really only needs to last another six or seven seasons to pass Jordan in all of the major statistical categories. Indeed, he's already 54 percent of the way to catching Jordan in points, 67 percent of the way to catching Jordan in rebounds and 77 percent of the way to catching Jordan in assists.
Of course, in the most critical number of all -- the number of championship rings -- James is zero percent of the way to matching Jordan. And all of us, even Pippen, should realize that fact will always separate Jordan and James in the "greatest of all time" debate. Unless James can win seven titles, of course.