Posted by Royce Young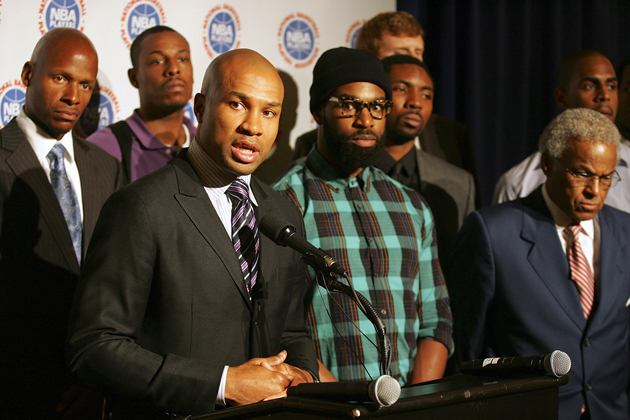 As Ken Berger of CBSSports.com has reported
, the gap separating the players and owners is somewhere in the $120 million range. That's it. From $8 billion down to around $2.6 million per team per year. That's
nothing
, it seems.
Right now, the players are firm at a 53 percent take of the Basketball Related Income (BRI). Owners have come up to (reportedly), 50 percent. And as Berger told us, each percentage point is roughly $40 million. So assuming all of that is lined up correctly, there's a gap of $120 million per season, or three percent in terms of BRI.
Again, that's not a whole lot of money in terms of the grand scheme. So the question is, is it worth it to the players to keep holding out instead of taking the owners' deal of 50 percent?
As Larry Coon points out at TrueHoop, probably not
.
Here's how it shakes out:
Next season, the total output from the league in terms of BRI is expected to be in the $4 billion range. That's billion with a "b".
Assuming the offer David Stern referenced is accurate, meaning the 50-50 split between players and owners doesn't take out owner expenses first, the players would see $2 billion of that $4 billion. You know, half.
If the players got what they wanted -- 53 percent -- that take would be roughly $2.12 billion. Which again, is about $120 million more than the 50 percent offer. Over a six-year deal which is the proposal, it's just a shade less than $800 million.
How much do players make in a week? All together, it's $82.4 million... per week. Here's how Coon puts it: "If we use the 1998-99 lockout as a guide, a canceled game costs each player 1/82nd of his salary. A full NBA regular season lasts 170 days, so each missed week represents 7/170th of a player's income. So if a week's worth of games is cancelled because they say "no" to the owners' 50 percent offer, the players miss out on $82.4 million."
The money question is then, that $120 million the players say they won't back off for, how quickly would they lose that if they're missing paychecks because of a lockout?
Ten days. Ten...
days
. Join me now in punching the wall, won't you?
By Nov. 11, each player would have already lost the money they were trying to hold out for by going for a 53 percent BRI split. Does that make ANY sense to anyone? Look at it this way, using the grand scheme of the $796 million total the players are fighting for over a six-year deal.
Over a six year agreement, the players would burn through the $796 million in a little under 10 weeks. If they continue to hold out for 53 percent, and the owners hold firm at 50 percent, the players will reach the break-even point around December 16th. If the sides settle for 53 percent past that date, then the players would have been better off by taking the owners' offer of 50 percent before games were cancelled.
Ten weeks? That's not even a full season! That's like mid-January! If the players hold out for 53 percent until January, it's pointless. They would've already lost that money!
Which is why it makes all the sense in the world for the players to just accept the deal they have in front of them. Because the longer this goes, and once games start getting missed, the owners gain a distinct advantage. Because once the lockout stretches into January, what incentive is there for the owners to uphold a 50-50 offer? Might as well drop it. This 50 percent will probably be as good as it gets for the players.
Hopefully they see that before Sunday night.
Via Welcome to Loud City