Posted by
Ben Golliver.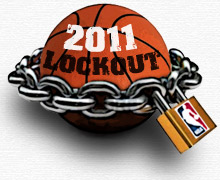 The NBA and the National Basketball Players Association are facing a Monday deadline for reaching a deal on a new collective bargaining agreement if an 82-game schedule is to be saved.
Significant progress
towards a deal has been made and there's hope for a
last-second compromise
, although talks broke down on Tuesday with both sides deciding they couldn't concede anything more.
Yahoo Sports reports
that the league's owners may now be more willing to dig in rather than provide larger givebacks in the next round of talks.
The NBA owners never wanted to go north of 48.5 percent for the players' share of the basketball-related income (BRI), league sources say, and commissioner David Stern had lean support when he pushed the most recent offer to 50 percent. There hasn't been one source in ownership, in management, who believes the players will get that offer again – at least no time soon. Now, the union has boxed itself in with declarations it won't go that far to get a deal with the owners, so there's a real chance these two sides are hunkered down again.

Truth be told, the commissioner probably pushed his owners as far they're willing to go now – to really try to end this lockout – and it didn't happen.
On the flipside, an NBPA executive
penned a letter on Wednesday
stating that the players needed to dig in and remain united as well.
That both sides would dig back in after a failed compromise is standard negotiating procedure. Looking at the owners' position, though, it has long been reported that they would make a "take it or leave it" type of proposal to avoid a work stoppage and then retreat to a harder position, allowing the financial reality of lost paychecks to increase their leverage.
As noted earlier Thursday
, the players stand to lose $80 million in wages for every week that is cancelled, so they have good reason to continue to progress towards a deal in the short term. The owners will also lose a similar amount of money with each series of cancelled games, however if they can make more than that amount of money back in a more favorable BRI split negotiated after one or two rounds of lost player paychecks, it arguably makes more financial sense for them to wait this out.
Thursday afternoon, Ken Berger of CBSSports.com reported that
no formal meetings
between the two sides have been scheduled yet prior to Monday's deadline and that the next round of
concessions wouldn't come
until Sunday at the earliest. That doesn't leave much time to make up a serious gap and the prospects for a deal look even dimmer if the owners aren't prepared to improve their offer right now, as reported.