Posted by Ben Golliver.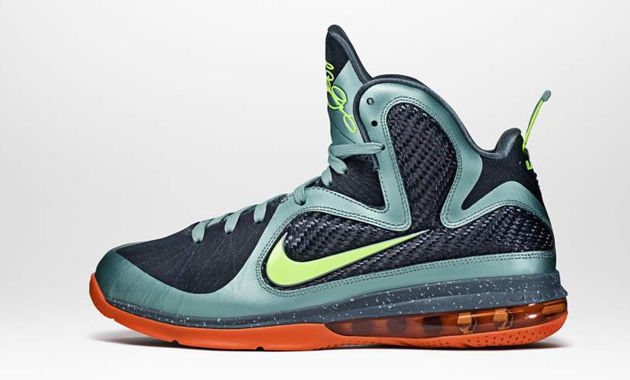 Last year,
LeBron James
and the Miami
Heat
spent some time during training camp at a Florida Air Force base. This year, training camp has been cancelled due to the ongoing NBA lockout, but James has a new sneaker meant to honor that experience.
On Sunday,
Nike will release
the ninth iteration of James' signature sneaker. Dubbed the LeBron 9 "Cannon," the original model will be sold exclusively in South Florida and
the Associated Press reports
that the shoe's design and color scheme was inspired by the Air Force.
Nike calls it "The Cannon'' edition of the LeBron 9. The military-green theme is a nod to the Miami Heat having their first training camp since James joined the team last season at Hurlburt Field and Eglin Air Force Base. Those installations in Florida's Panhandle hosted the Heat for about a week, and players interacted with military personnel during that camp.
At first glance, these shoes seem more like "tank" than "aircraft carrier" or "fighter plane," but the personal, local touch and concept is cool regardless.
The LeBron 9 Cannon by Nike will retail for $170.
Nike and James
recently released
the "Miami Nights" version of his eighth signature sneaker and
released a "South Beach"
model in Oct. 2010.
Top image via Uproxx.com.