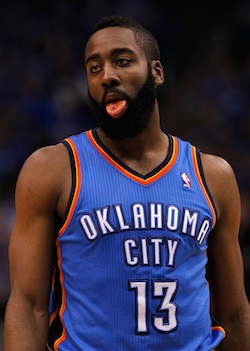 Posted by Royce Young
The league and players wrapped a five-plus hour meeting in New York Sunday in a last-ditch effort to save the start of the NBA regular season. How'd it go?
No comment. Evidently.
The biggest hangup between the two sides is current the Basketball Related Income split. The players have said they're firm at 53 percent while the owners are pushing for a 50-50 split. A good number of players are in Los Angeles playing in the Goodman-Drew rematch and
ESPN.com spoke with a few
and guess what they talked about.
James Harden
, and his beard, basically put it this way: It's 53 percent or nothing.
Harden falls squarely into the first camp. Prior to the game, the Thunder guard said he wouldn't rubber stamp a proposal, even if he received a personal call from union president Derek Fisher.

"I'd want to know what the deal is," Harden said. "Derek is someone you definitely listen to, but I'd also want to talk with the big guys -- LeBron, KD, and the rest."

Asked if he could see any scenario where a 50-50 split in basketball-related income (BRI) would be acceptable, Harden shook his head.

What's your drop-dead number?

"Fifty-three," Harden insisted. "No less."
Will it be 53? Who knows. We'll find out more by Monday after the players and league wrap another meeting. You'd have to think the players would be willing to come off that number to a degree in order to get a deal.
And like Harden conceded, he's not exactly involved all that heavily in the talks. He admitted that he'd defer to the bigger names involved like LeBron,
Kevin Durant
and others.
Harden's sentiment is sort of the battle Fisher and Billy Hunter are battling right now though. They desperately want to make a deal, but they can't feel like they've let down players like Harden. Those that are trenched into their position and are convinced that wavering is a bad thing wouldn't be happy with a 50-50 compromise out of nowhere. So Fisher has to please his base while at the same time getting a deal that works.
Such is a nasty negotiation like this.