Posted by Royce Young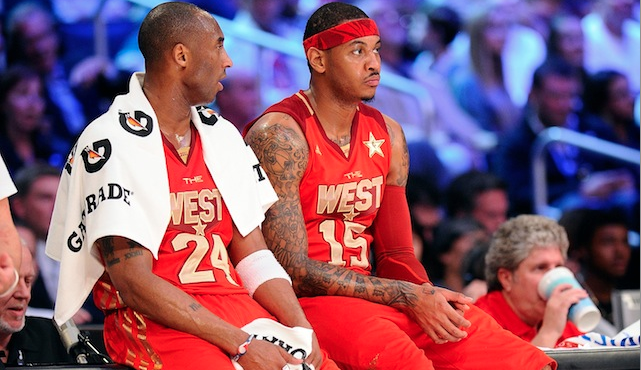 Kobe Bryant
has had it pretty good during his career. He's had the good fortune to have great players like Shaquille O'Neal, Karl Malone, Gary Payton and
Pau Gasol
as teammates at different times in his career.
But what current NBA player would Kobe most like to play with?
Dwight Howard
, right?
Wrong.
Via HoopsWorld
:
"I would actually like to play with Melo." Bryant said. "Championships are won on the inside and I'm always thinking about winning the title. I would love to play with Melo because I would know that I have an inside presence. That's really been the biggest strength with our Lakers team. We have a lot of guys who can play in the post, and that's how you win championships. I can post, Lamar [Odom] can post, Ron [Artest] can post, Pau [Gasol] can post and Andrew [Bynum] can post. Teams are usually lucky if they have one guy that can control the block. But yeah, I would love to play with Melo."
Kobe's reasoning for Melo is a bit odd. He says over and over how championships are won inside and goes on about how good all the Lakers are at posting. And then just throws in that playing with Melo would be cool. Is he saying because Melo is good in the post from his small forward position? I don't really get it.
The question is, how would Melo and Kobe work together? Melo likes to get his shots. Kobe likes to get his shots. There would have to be some serious sacrafice between the two because both truly prefer to live on the wing and isolate for themselves.
Oh, and I guess if you want to speculate that Kobe's going to finish his career in New York -- with Phil Jackson as the coach, of course, and
Chris Paul
at point guard, naturally -- Kobe's contract is up in 2014. Go crazy, everybody.