Posted by Ben Golliver.
On Monday morning, the National Basketball Players Association
launched a Twitter campaign
to rally fan support and to express union solidarity during the ongoing labor negotiations with the NBA. The two-fold message was summarized by two quick-hitting slogans: "Let us play" and "stand united."
New York
Knicks
All-Star forward
Carmelo Anthony
has added his own message to the discourse. After participating in the NBPA's campaign, Anthony offered an apology to NBA fans, tacking on a profane three-word slogan that is hard to argue with: "This **** sucks."
Here's a look at
the tweet
.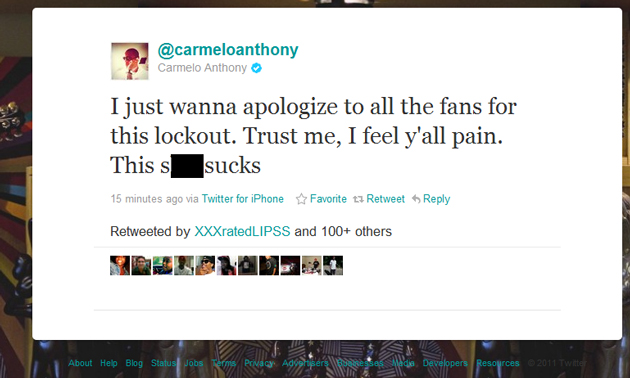 Oklahoma City
Thunder
All-Star forward
Kevin Durant
and Miami
Heat
All-Star forward
LeBron James
also passed Anthony's message along to their followers.
Anthony
later added
: "It bothers me to hear people talk about things they know nothing about!!!"
His frustration doesn't arise from nowhere. There has been some fan backlash on Twitter to the NBPA's "let us play" campaign with some observers unclear that the labor dispute is the result of the NBA owners locking out the players instead of the players going out on strike. For this, Anthony really has no one to blame but his fellow union members. We're more than three months into the ongoing lockout. If the basics haven't been effectively communicated to the fans, the players can't really point the finger at anyone else about that. It's absolutely frustrating but educating the general public about the finer points of a labor negotiation is a long, costly and intricate process.
Blaming the fans, even for their own lack of knowledge, will get the players nowhere.