Posted by Royce Young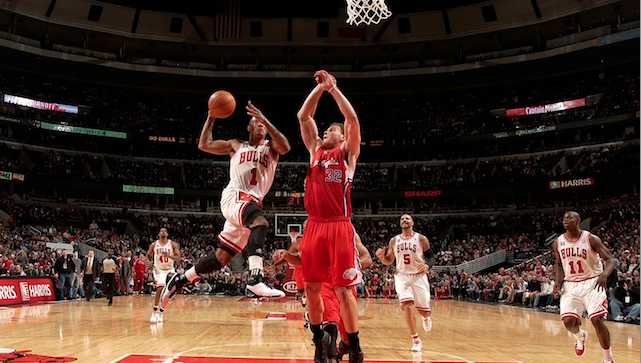 There will be an NBA season. You can take that to the bank. Or to the grocery store. You can take it
somewhere
.
But what there won't be is a first two weeks of the season. Those are canceled. Ninety-nine games... gone. Which totally sucks, but that's just the reality. Blame who you want to blame, yell about it to your cab driver, write letters to your congressperson (that's what you're supposed to do, right?), but it doesn't matter. Until the players and owners -- very rich people, mind you -- can agree on how to split up some $4 billion in revenue, we won't be seeing basketball.
Two weeks could very well be the tip of the iceberg. Which would
really
suck. And what are we missing? Cover your eyes, diehards. It may be too much for you. Here are the 10 best games that vanished like a fart in the wind Monday night.
Bulls at Mavericks (Nov. 1)
Opening night in the NBA was going to be a real treat. It always is because we're all excited the NBA is back, but kicking things off with the Mavericks getting their rings and then taking on the MVP
Derrick Rose
and one of the East's best teams? Oh yes please.
It was probably going to be a great game, but just the atmosphere in Dallas as the Mavs took one last victory lap around their trophy was going to be special. Granted, it'll happen eventually, but now it's tainted. It's just not the same anymore.
Thunder at Lakers (Nov. 1)
Wrapping up opening night was young versus old with a delicious matchup of
Kevin Durant
versus
Kobe Bryant
. The Thunder and Lakers quietly have a nice little rivalry going that started in the postseason two years ago, but stepped up a bit more when Oklahoma City acquired renowned Laker-hater
Kendrick Perkins
.
Russell Westbrook
always goes full tilt against the Lakers -- especially in L.A., where he's from -- and the game's are almost always good.
Plus, this was to be our official introduction to
Metta World Peace
.
Heat at Knicks (Nov. 2)
It's great that this old rivalry is back to meaning something, but holy starpower Batman. Carmelo. LeBron. Bosh. Amare. Wade. Chauncey. I don't really have to give you more reason as to why this one's a bummer to miss, right?
Magic at Heat (Nov. 3)
The Magic are a curious bunch. They could be good this season. They could be average. But whatever the case, they're going to be fired up to play their neighbor from South Beach.
Dwight Howard
always brings his best out in big games and I'm having visions of Orlando's awesome 3-point barrage comeback right now from last season.
Alas.
Mavericks at Spurs (Nov. 4)
Dirk and
Tim Duncan
-- how many more times will we get to see this matchup of titans? With both hitting the twilight of their careers, each time they square off, it's something precious to hold. Like the few sips of a Neapolitan shake from In-N-Out.
Thunder at Mavericks (Nov. 5)
The "REMATCH REVENGE RIVALRY" hook is a good one and definitely a top reason to be excited for this game, but it's also the type of matchup that almost guarantees a great game. Because here's the thing: If OKC blows out Dallas, Durant's giving you an awesome performance. If Dallas blows out OKC, Dirk probably dropped a ridiculously efficient line.
There would be flashbacks to their great Western Finals series and you know Russell Westbrook would be ready to try and stick it to his critics.

Hornets at Lakers (Nov. 6)
Remember how
Chris Paul
completely torched the Lakers in the opening round in last season's playoffs? Remember how he, and he alone, gave the Lakers a good scare?
He was probably going to do something like that again. Sad face.
Clippers at Bulls (Nov. 8)
Blake Griffin
? Derrick Rose? Yeah, I like watching both of those guys play. What's that? I could've been watching them both play AT THE SAME TIME? Pretty much the NBA equivalent of having your cake and eating it too.
Spurs at Lakers (Nov. 9)
Time's running out for both these teams. Each year it feels like the Spurs will start to take a dip and then they win 60 games again. Same goes for the Lakers. These two franchises don't exactly like each other, which happens when you're always competing against the other for a trophy. Tim Duncan and Gregg Popovich relish beating the Lakers and always bring their best to Staples.

Thunder at Bulls (Nov. 10)
You know how we're all talking about how the NBA's in such a good place right now, especially because of the young players who will inherit the spotlight? This is kind of the Super Bowl for that idea. Rose, Westbrook and Durant are three superstars under the age of 24 and all who have great attitudes and understand the game.
Plus, their teams are really, really good.
Too bad this game, or really, all of these 99, don't exist anymore. I'd take
Timberwolves
-Raptors 10 straight times at this point.