Posted by Ben Golliver.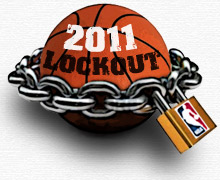 Time waits for no man. Or union of men.
One day after the NBA announced that it was cancelling the first two weeks of the regular season after failed negotiations with the National Basketball Players Association,
ESPN.com reports
that the union has scheduled its next major meeting to discuss the state of affairs.
Billy Hunter will meet with NBA players Friday afternoon in Los Angeles, according to sources with knowledge of the situation.

After more than 12 hours of negotiations with the NBA Sunday and Monday proved fruitless, Hunter wants to begin meeting face-to-face with groups of players to explain the details of where the league and the union stand.
The NBPA's last major meeting was held in Las Vegas in September. Hunter and NBPA president
Derek Fisher
led the proceedings and handing out t-shirts that read "Stand" to roughly 35 players who attended.
The NBPA had planned to hold a regional meetings in Los Angeles on Monday but Hunter's plans changed when the NBA and NBPA decided to engage in last-minute talks on Sunday that carried over into Monday.
Hunter enters the L.A. meeting as the bearer of bad news. With both economic and system issues separating the players and owners in their negotiations, the pressure from his rank-and-file is only going to increase as the players continue down the road toward missed paychecks. Hunter is tasked with plotting the next steps for the union while each two weeks that pass represent the possibility of another two weeks of the regular season cancelled.
On Tuesday night, there were still no official meetings between the NBA and the NBPA scheduled.