Posted by Ben Golliver.
If you somehow missed it on Tuesday, Miami
Heat
All-Star forward
LeBron James
sent the media in two sports into a minor tizzy when he "innocently" inquired about the deadline for an NFL team to sign a free agent. That led to a back-and-forth with Seattle Seahawks head coach Pete Carroll, who has
already invited
free agent guard
Nate Robinson
to his camp, in which player and coach joked about the NFL's rookie minimum salary.
On Wednesday, Carroll
upped the ante
by posting a customized Seahawks jersey with James' name on it to his Twitter account.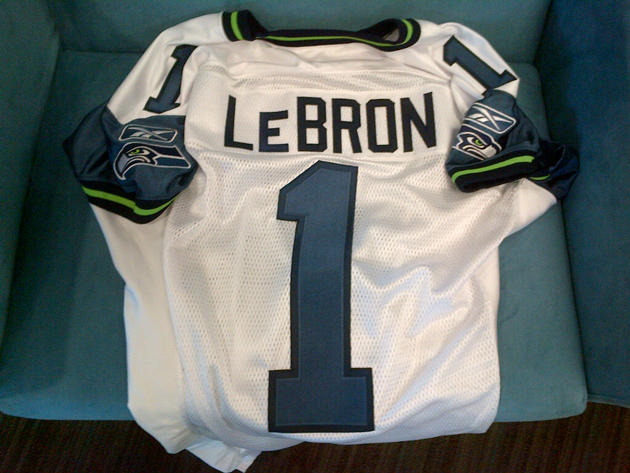 Carroll was known as a master recruiter during his days at the University of Southern California, and it's clear he's kept his skills sharp despite his transition to the NFL.
"Nice!!! looks great," James
replied
.
Judging by the choice of jersey number (No. 1), Carroll has James slotted in to play either quarterback, kicker or punter. Tarvaris Jackson and Charlie Whitehurst -- Seattle's two-headed monster of signal-calling ineffectiveness -- better prepare for some pressure on the depth chart.
Of course, the risk of injury, the fact that he has yet to win an NBA title and the nearly $100 million he has remaining on his contract with the Heat all conspire to prevent James making a detour to the NFL during the NBA lockout. But make no mistake, James could succeed playing professional football. His ideal position, most agree, would be tight end, where he could use his combination of height, size, speed, wingspan and athletic skills to greatest effect. Sure, he would have to re-learn how to take a hit, but something tells me if he was given a helmet and shoulder pads and played in a league where flopping was expressly discouraged, he would do alright. We're talking about, by far, the biggest athletic freak in a sport that is full of them. He can make the transition. He's a mismatch anywhere and everywhere.
As you probably guessed, the Seahawks are below .500, sitting at 2-3 in the pathetic NFC West. They've got nothing to lose with such a blatant, pointless publicity stunt. Perhaps this ends with Carroll sending James an autographed copy of his book, "Win Forever." The King just might learn something.