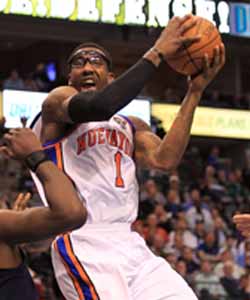 By Matt Moore
During the various rounds of media that
Amar'e Stoudemire
has done this week promoting his new shoe, Stoudemire was asked about who he'd want on his team,
Carmelo Anthony
or
LeBron James
. Stoudemire of course replied Melo, because that's his teammate and to say anything else would not only be rude and insulting, but incredibly stupid. But it's not what Stoudemire replied that will raise an eyebrow. It's his reasoning for why. From the
New York Post
:
"Carmelo is a clutch player,'' Stoudemire said. "Carmelo is definitely known for making those last-second shots. Comes down to the last few minutes of a game, you want to have Carmelo on your team. LeBron is a great facillitator and ultimate team player.''

James, after his Finals flop, is certainly starting to lose his rep as a clutch late-game shooter. Stoudemire has no love lost for James, as he spurned the Knicks days after Stoudemire agreed to terms. Also, Stoudemire had interest in Miami but Dwyane Wade and James preferred teaming up with Chris Bosh over Stoudemire.
via
Amar'e: I'd take Melo over King James
.
Let's start with the clutch part. Anthony is
by many accounts
most clutch player in the NBA. For
years
, he's been at the top of the
field goal percentage and points in the clutch categories
. Last year was a minor step back for him, but that was mostly because of what his role became on the Knicks with so few alternatives. But Stoudemire's comments about James ring with a certain amount of truth. He is a great facillitator. But the subtext is that James is more of "the guy behind the guy" rather than "the guy." And the fact that he's tried to be "the guy" is the source of a lot of his problems. You can recognize that James does nearly everything exceptionally well, but that he's not the go-to scoring option, at least he hasn't been yet. Or at least he wasn't in the Finals, since he was in the Eastern Conference Finals. It's complicated. But Stoudemire's defense of Melo is simultaneously a criticism of LeBron, and does show an attitude split between the Knicks and the
Heat
. The Knicks, for as much of a run-and-gun squad as they are, have a certain edge to them Miami does not. Watching that rivalry will develop will be fascinating consdering the friendship between the main players.
Back in July of 2010, you know, old school, back when there was an NBA, we wrote up the comparisons between Stoudemire and Chris Bosh and found that the Heat
may not have made the best choice
. That certainly played out over the course of the season as Bosh struggled though his playoff performances redeemed him some what. The common thought is that Stoudemire could never have been the defensive player Bosh was for the Heat, but there's no real way to judge that. Stoudemire has never been a part of a defensive system that strong... or strong at all, really. How he does with Mike Woodson will tell us more about that than anything, as well as the same about Melo.