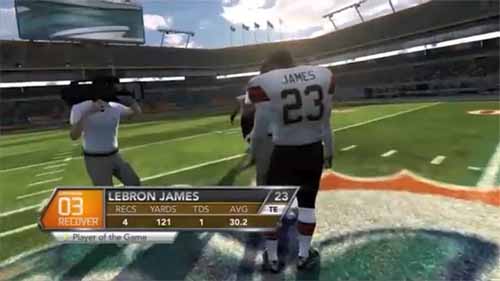 By Matt Moore
When
LeBron James
took to Twitter this week to
ask ESPN's John Clayton about the last date a player can sign with an NFL team
as a free agent, the world went nuts. James was an All-State wide receiver in high school at St. Vincent-St. Mary's his junior year before committing full-time to basketball his senior season. He made an All-State ad where he appeared as a Browns receiver. He's known to love playing Madden. He frequently comments on the NFL. With the NBA lockout seemingly nowhere near a conclusion, could James actually be considering putting on cleats? Is he out of his "Decision"-making mind?
Seahawks coach Pete Carroll asked the
Heat
star if
he knew how much rookies make in the NFL
. James responded with "
more than I'm making now
," which of course fails to factor all of his income outside of his Heat salary, but nonetheless.
Carroll was enthused
. The Seahawks followed up Wednesday by
producing a Twitter image of a Seahawks jersey for James
. The King
approved
.
Debate has centered around whether James is skilled enough to make it on an NFL field, whether he's tough enough, whether he's brave enough. The more relevant argument, the one that ends it in totality is that James has guaranteed money coming to him from the Heat once the lockout ends, over $16 million per season, money that he would be risking with a stint in the NFL no matter how brief. Furthermore, there has been no indication that NFL officials would even grant a locked-out NBA player eligibility, though there could be legal challenges if James or any other player wanted to push the issue enough.
Our brethren at
Eye on Football already explored the idea through the virtual world of Madden
.
But still we wanted to consider the possibility of this dream, and what it would be like if the most polarizing figure in the NBA jumped to the gridiron. So we vomited it up in an email thread.
Matt Moore:
So we know the reasons this won't happen. But let's treat it like us getting games before Jan.1. As a dream. What position do you see him at? What team? I love the idea of him as a Wildcat QB. He's got the arm. Everyone talks about the problem with progressions, but the man navigates bounce passes in traffic at full speed 10 times a night. He obviously wouldn't block. But Brinson put him as a receiving tight end. What do you think?
I also really want him to play for the Browns. It would just show how fickle fans are and how much people love football in this country. Plus every other team would be aiming to take his block off. that would be interesting.
Ben Golliver:
I don't think you're totally crazy with the wildcat QB idea, although I'd like to see that in third-and-short and goal line situations more than anything, where you could really take advantage of his extension, explosiveness and potentially his leaping ability. I think as a quarterback in regular situations, he becomes a big target and he wouldn't have enough nearly enough passing skills and ability to read the defense to keep teams honest for four quarters. I guess I like him a lot better in space, either as a tight end or even a wide receiver.
As I mentioned Wednesday night
, his combination of height, size, speed, wingspan and athletic skills make him a match-up nightmare at the tight end position. He'd have to learn to take a hit, for sure, but if you're running him on crossing patterns and rolling your QB out, there's not a player in the NFL who can stay with him sideline-to-sideline and elevate high enough to disrupt a pass to him. At the goal line, lining him up outside for the jump ball fade would be an obvious strategy. He's winning that or commanding double coverage and opening things up elsewhere, no questions asked.
Royce Young:
I only think it's natural that he plays wide receiver. To me, LeBron would just be the next Megatron. Big, strong and fast with great hands. He's played there before, is comfortable in that spot and would be really good, I think. Just makes sense.
A wildcat QB would be interesting, but I don't think LeBron's going to want to get hit. Which if he's just a third down receiver, he could catch his pass and get down quickly.
But if he were to be willing to play physical, how about him at defensive end? I mean, he's 6-8, 260. That's about the same size as Jared Allen (6-6, 270) and just a little lighter than Mario Williams (6-6, 290). LeBron would have incredible footwork and of course would be fast off the ball. If he was willing to hit, he could tear up some left tackles.
Moore:
It's weird that everyone thinks he wouldn't want contact.
The bus isn't afraid of running over the deer. I think Wildcat in short yardage he could be killer.
Also, James> Tebow, we can all go ahead and agree on that, right?
Golliver:
It just speaks to the nature of the sports -- basketball has devolved to the point where selling calls is a crucial part of games, especially late in games and especially in the postseason. If you put him in a sport where any form of weakness is discouraged and mocked I think we would see him evolve pretty quickly.
We haven't really decided what position he is best suited for psychologically. He's a playmaker in the NBA which would lead you to think he would be a QB but he's not totally reliable and has issues with making the right decisions when the stakes are highest. You want him running your 2-minute drill? You could argue that his level of fame, self-confidence (ego), and entourage combine to make him suited only for the wide receiver position, but that clashes with his expectations for his own usage rate, doesn't it? Come to think of it, he would be demanding the ball on every play a la Randy Moss within about four weeks, wouldn't he? Tight end -- the keep your head down, work hard all day, who cares about the credit position -- seems like one of the worst possible fits. Royce's idea of defensive end, a spot where he would be encouraged to throw chalk up in the air for his sack dance, actually makes a lot of sense from this standpoint.
Young:
Well I guess it's that I can't entirely detach myself from reality. LeBron's not going to want to get hurt so if he played football, he'd want a position where he could be kept largely safe.
My thinking is though, wherever LeBron was, I think he'd be good. He just strikes me as a guy that's going to succeed pretty much anywhere. Defensive back, defensive end, tight end, wide receiver, fullback -- I don't think it necessarily matters. In football, superathletes rule the day and that's what LeBron is. He's like Jevon Kearse -- a freak.
Speaking of, maybe that's my natural comparison for LeBron at defensive end. The Freak 2.0. Like Ben said, complete with stupid celebratory sack dance.
Moore:
He'd be a killer corner. Tackle people smaller than him. Yell at them when they drop it.
Wait, does
Kevin Garnett
want to play?