Posted by Ben Golliver.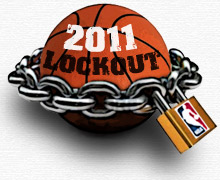 The National Basketball Players Association held a regional meeting in Los Angeles on Friday afternoon to discuss the state of the ongoing labor negotiations with the NBA. The early word was not exactly on message.
SI.com reports
that Washington
Wizards
center
JaVale McGee
left the media early to attend another engagement, noting: "There's definitely some guys in there saying that they're ready to fold, but the majority are willing to stand strong."
On Thursday, Fisher
wrote on Twitter
that the meeting was "important" and noted that "all players including rookies [were] welcome."
Despite that plea,
SlamOnline.com reported
that McGee estimated that the number of attendees was "about 25 to 30," fewer than the number who attended the NBPA's most recent regional meeting, held in Las Vegas back in September.
"Everybody knows we've got to get more people to come to the meetings," McGee said,
according to SI.com
.
Shortly after multiple sources independently reported McGee's comments, he
posted the following message
on Twitter: "I never said anyone is ready to fold! Media always wanna turn it!"
Within an hour, the
Los Angeles Times
posted audio
of McGee's comments, confirming that he did make the statement.
The NBPA's meeting is taking place one day after NBA commissioner David Stern
began a media blitz
that included
an attack
on NBPA executive director Billy Hunter, who he said has been inaccurately representing the NBA's offer to rank-and-file players.
Check back later for further updates from the NBPA's labor meeting in Los Angeles.