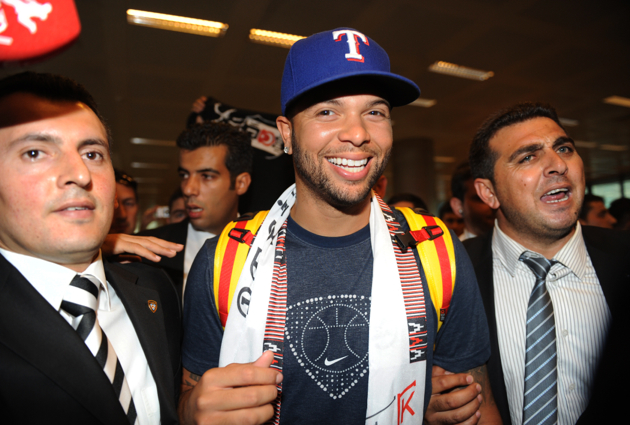 By Matt Moore
Matt Moore:
So who, individually is winning and losing the lockout? My brief list.
Winners:
David West
,
Greg Oden
(rehab).
Kevin Garnett
,
Kobe Bryant
,
Steve Nash
(age).
Kevin Love
,
Dwyane Wade
(image).
Losers:
Rookies (obv.).
DeAndre Jordan
($$$$$).
Royce Young:
Derek Fisher. I think he's increased his image as the statesman of the NBA. I don't know how good a job he's really doing, but he always comes across as measured, professional and calm. The guy's in the twilight of his NBA career, but his performance as president of the union is going to net him a pretty sweet gig after he retires, I think. Front office exec? Coach? The next Billy Hunter? I could see basically anything for Fisher.
Ben Golliver:
I hate to say it but I think
LeBron James
and Dwyane Wade are big winners here. No one entered the offseason with more motivation to bring their A-game to the 2011-2012 season after that jenga collapse in the Finals. As the lockout dragged on, the usual motivating factors for the average player disappeared. Watching these guys workout, play in exhibition games, etc. it's clear they will be ready to go from day one. They will blitz some people hard out of the gate and should stack up enough victories early to get the rest they wanted before last year's playoffs. Same thing, to a lesser extent, goes for
Kevin Durant
, who has just been a maniac.
Of the younger guys, I like what
John Wall
and
Brandon Jennings
did to increase their exposure. Whether that counts for anything long-term is anyone's guess. Both elevated their profile for sure. I still like what
Deron Williams
and
Ty Lawson
did, accepting the challenge of a different lifestyle and continuing to play in competitive leagues. Williams took a significantly bigger risk, but as long as he comes home without injury he will be a winner in my eyes. Zigging when everyone zags deserves some kudos. Props to
Kyrie Irving
and
Isaiah Thomas
and the other rookies that went back to school. We get on people for jumping too early but never give the round of applause for guys who get back on the diploma track.
They are bigger picture winners.
Eddy Curry is the biggest loser of the lockout and, really, of life. Scratching from exhibition games is really the bottom of the barrel. Same thing goes for
Michael Beasley
and
Matt Barnes
and their idiotic antics. Nobody needs any of that. Beasley caught a break when Rick Adelman got hired. He is about to get a great coach. Let's see if he embraces or squelches this opportunity. Take a guess at which is more likely.
Matt Moore:
I'd argue Deron's a loser. He made the money but admitted it's been hard on the family and they're not winning and the attendance is terrible. As the biggest star to go he was under pressure to convert that opportunity into success. Making the money, which is always dicey overseas, doesn't make up for the other problems and the lack of impact.
Ben Golliver:
If it was that bad he would have left. He's said its brought his family closer together and has been a one-in-a-lifetime experience. I think we can take him at his word about that.
Royce Young:
I definitely agree with that, Matt. Deron messed up, in my mind. The Besiktas deal really didn't turn out to be all that lucrative and instead of pimping his profile here in the charity pro-am games, he's toiling away in Turkey in front of half empty arenas. What's so great about that? If it was just intended to be a family vacation, good for him, but I don't know why you can't just
go
to Turkey. Why sign to play for Besiktas? He got less than other superstars because he signed so early and I don't think he's really gained a whole lot out of it otherwise.
Matt Moore:
Also, if we're talking bigger picture winners, no player is a winner because they lost a bazillion dollars between negotiations and lost paychecks.
Ben Golliver:
Name one player who made more money playing basketball during the lockout than Deron Williams.
Royce Young:
I don't think that's the point though. He didn't make all that much in relative terms, plus hasn't benefitted as much as some other players that stayed here. Williams is a star player. And he's the only star that signed overseas. Don't you think that's a little weird?
Ben Golliver:
Not at all. He was in a unique situation with his contract extension coming up, with an open mind, a desire to see the world and make money, and a team that would give him a max contract even if he broke both his legs because they already mortgaged the franchise for him. Why single someone out for criticism because he made a unique choice that will prove to be in his best interests as long as he doesn't get hurt (and could still be in his best interests even if he does)? This was a great way to get back in shape after an injury, it took guts, he's getting rewarded and he is living life on his own terms, not those of the NBA owners. He's not begging fans to let him play on Twitter, he proactively sought a deal that will pay him more than any other player during the down time and will be ready to go when the NBA is back. It wasn't a decision many stars could make but there were good reasons behind it and he showed courage. That makes him a winner to me.