Posted by Ben Golliver.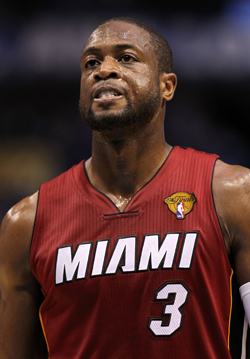 Dwyane Wade
says he was simply channeling Aretha Franklin during his confrontation with David Stern.
Ken Berger of CBSSports.com reported
that the Miami
Heat
All-Star guard and the NBA's commissioner had a heated back-and-forth during labor negotiations in New York City two weeks ago.
Wade took exception to commissioner David Stern's tone and gesturing -- the commissioner evidently was pointing his finger while speaking to the players -- and "stood up for himself," a person with knowledge of the meeting said. According to two people familiar with the incident, Wade warned Stern not to point his finger and made reference to not being a child.
Speaking at Marquette Madness, his alma mater's annual college basketball season kickoff event, Wade said that he was just seeking respect from Stern.
Mike Singer, CBSSports.com's Rapid Reporter for Marquette, has Wade's reflection on the much ballyhooed exchange of words.
Reporter: There's only a handful of people on the planet that would've told David J. Stern what you told David J. Stern.

Wade: "What'd I tell him?"

Reporter: You told him to shut it down. Don't holla at you like that.

Wade: "It's about negotiations. I'm a person about respect, I respect people in their positions and I look at someone to do the same for me. So when it gets to that point where I don't feel like that, I'm a man, I'm going to say my piece."

Reporter: That Wade anger slipped out.

Wade: "Naw it's just animated conversation. It's not like it's not a conversation that he's never had before. It took on legs of its own. It was about the negotiations and you know things, were taken out of context, voices were raised a little bit but nothing that don't go on in everyday world."
That's a typically savvy response from Wade, who avoided the obvious bait by refusing to offer a ton of specifics and making it clear that he wasn't speaking from an out of control emotional state.
The negotiations haven't progressed significantly after that moment, so aside being a humorous sideshow, it's difficult to argue that Wade's words had any lasting impact. At this point, that confrontation is water under the bridge.