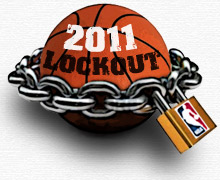 Posted by Royce Young
The NBA lockout is going to make a financial impact on a lot of stuff outside of just basketball. That's not exactly big news, but the question has been, how much of an impact will it make?
Well, here's one example,
via Reuters
:
Adidas stands to be worst hit from the "lockout" because it has held the license to provide NBA uniforms and apparel since 2006.

The German group makes some $100 million in sales from licensed NBA products, with basketball products as a whole, including footwear, among its top five sporting categories.

Matt Powell, analyst at SportsOneSource, told Reuters licensed apparel sales could halve, similar to the last lockout in the 1998/99 season, if the season were canceled.

"Overall, sales of NBA licensed products fell by 20 percent last week, and I view that as the beginning of the fall because of the lockout," he said.

Others say it is important for the season to start up before Christmas, not only because it's the busiest time for the retail world but because NBA products become less in demand as the season goes on.

It's October which means the NBA season would be starting very soon. Which means NBA fans should be gearing up with jerseys, shoes, t-shirts and whatever else. But clearly, they're not. Adidas' sales dropped 20 percent at a time where they should likely be rising.
Adidas doesn't have near the footprint on the basketball world as Nike, but $50 million in sales isn't just chump change. That's serious stuff.
Again, everyone knows that when a massive enterprise like the NBA is out of commission that a lot of stuff will be affected. But it's when you start getting numbers and actual quotes illustrating it that it starts making more sense.