Posted by Ben Golliver.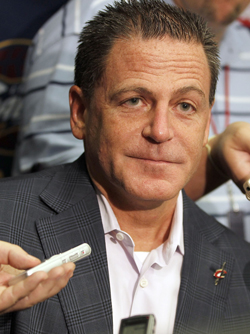 Is Cleveland
Cavaliers
owner Dan Gilbert the biggest gangster in the NBA?
That might seem like a loaded question, but Gilbert did make his fortune off of sketchy, subprime home loans and now has ambitious plans to extend his sphere of influence with an interstate gambling business.
Cleveland.com reports
that Gilbert, the founder of Quicken Loans, is a principal in a new gambling investment company that plans to open "high-style, up-scale urban casinos" in Ohio and Maryland.
Rock Gaming LLC, a powerful new force in the gambling industry that has teamed up with Caesars Entertainment Corp. to develop casinos in Cleveland, Cincinnati and now, possibly, Baltimore. They submitted an application - and a check for $22.5 million - to Maryland officials late last month to develop a slot machine-only casino near the city's Inner Harbor with Caesars and two local investors. They are considered to be the frontrunner for the project.

Their big bet: that their concept of a high-style, up-scale "urban" casino that feeds on the character of a city and its attractions as much as on its slot machines will make them wildly successful and, in the process, revitalize rust belt cities.

"We think the right way to go is to do good and do well," said Matt Cullen, a Rock Gaming principal who's second in command of Gilbert's family of 39 companies. "But there's no question it's a risk."
Nothing says "revitalizing the rust belt" quite like investing in the most exploitative industries known to man. All Gilbert needs to do now is nickname himself after a semi-automatic weapon and launch a chain of brothels and he will have completed the 1930s-era gangster grand slam. Check
Boardwalk Empire
next week for a cameo appearance; Gilbert will be playing himself.
Gilbert is best known in NBA circles as the man who
came completely unhinged
when former Cavaliers All-Star
LeBron James
decided to "take his talents" to the Miami
Heat
during the summer of 2010. He penned an open letter calling James' decision "heartless and callous" and accused him of "disloyalty" for his "shameful display of selfishness and betrayal." Gilbert is also widely mocked for exclusively using the comic sans font.
Hat tip: IAmAGM