Posted by Ben Golliver.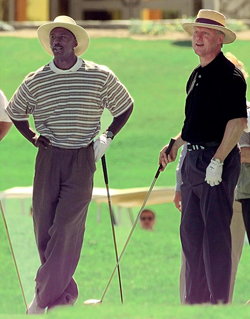 Michael Jordan would have been the greatest battle rapper of all time.
The key to his success would have been his unflinching ability to rip anyone at any time. Look no further than his
memorable Naismith Basketball Hall of Fame speech
, when he picked apart just about everyone with ruthless one-liners and vicious taunts. Jordan has punched a teammate and insulted his own No. 1 draft pick, so we already knew that there were no limits. But it's still delightful to read that he's not afraid to knock a commander-in-chief on the golf course.
The Wall Street Journal reports
that Jordan called out former President of the United States Bill Clinton during a round.
Clinton loves playing golf with athletes whenever he can. He's played with Greg Norman, Adam Scott, Luke Donald and Michael Jordan, among others. Jordan coaxed him from the white tees to the championship tees by saying, "You're going to play from the little girls' tee?" Jordan's challenge was for Clinton to break 100; he did.
Of course, facing the need to live up to Jordan's expectations, the former leader of the free world couldn't cave. Clinton had to accept the challenge. Surely Jordan entertained -- or psyched out -- Clinton with running dialogue for 18 holes as a result.
Jordan's trash talking ability is matched only by his immense competitive desire and love for gambling, and golf has provided a number of classic Jordan tales. Barely a month goes by without Jordan getting mixed up in one story or another on the links.
Back in July
, Jordan won a bet with a fan during a round of golf in Lake Tahoe. He also challenged Tiger Woods to
step his game up
, saying that Woods has been "fragile mentally" and that he "needs to get healthy." Heck, Jordan's golf bag is specifically designed to talk trash for him, with
images of his six championship rings on it
to remind you that he's modern basketball's greatest champion in case you somehow forgot.
The obvious next question here: Did the power pairing place any bets? Jordan does love a good cigar, after all, although I'm not sure you make that bet with Clinton, given his history.
Hat tip: HoopsHype.com