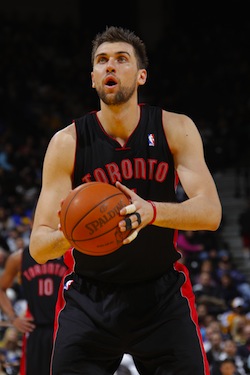 Posted by Royce Young
Italian club Virtus Roma is reportedly "close" to signing
Andrea Bargnani
. Which should come as somewhat of a surprise because Roma was always seen as a long-shot for Bargnani because the team simply didn't have the funds.
But then they got a new sponsor. And not just any sponsor.
Via Sportando
:
The Italian team found the main sponsor in AshleyMadison.com, The world's leading married dating service for discreet encounters. The founder of the website made his first proposal to Virtus Roma two weeks ago but the club hesitated for 'ethical problems'. On Monday the two parts had another meeting in Roma and Virtus Roma made three proposals.
Well then.
"It is true, I met Virtus Roma management and we are working to sponsor the club and bring Andrea Bargnani back to Italy," Noel Biderman, who founded AshleyMadison.com,
told La Stampa
. "The investment is worth 1.5 million Euros. We have also resolved the problem with insurance. Everything is ready."
There's still talk of Bargnani having interest with Benetton Treviso, but with the backing of Ashley Madison, the Roma offer is supposedly a more enticing one.
Evidently the website is doing pretty well too, so the money for Bargnani isn't a big deal. In 2010, the company approached the city of Phoenix with a $10 million offer to rename Sky Harbor Airport to Ashley Madison International Airport for five years. The city rejected the offer. In June of 2010, TMZ.com reported that Ashley Madison tried to purchase the naming rights to New Meadowlands Stadium for $25 million. Rejected again.
The site tried to purchase commercial time for Super Bowl XLIII in 2009 but was rejected again. Like these other things, Roma had their issues and definitely hesitated, but in the end the sponsorship was too good I guess.