Posted by Ben Golliver.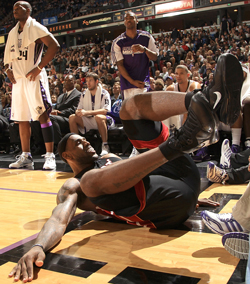 In case you missed it,
LeBron James
left the Cleveland
Cavaliers
for the Miami
Heat
during the summer of 2010, turning the NBA world upside down, eliciting hate from the state of Ohio and causing two men, Cavaliers owner Dan Gilbert and writer Scott Raab, to lose their minds.
Both Gilbert and Raab sought refuge with pen and pad. Gilbert wrote a vicious open letter to Cavaliers fans accusing James of betrayal and promising that the Cavaliers would would win a title before the Heat. Raab took that concept approximately 1,459 steps further, deciding to write a book about James, titled
The Whore of Akron
, and his first year in South Beach.
Esquire.com has released an excerpt from the book
. Not surprisingly, the excerpt pulls no punches, mocking James for his receding hairline, his failure to deliver in clutch situations, his decision to play second fiddle to
Dwyane Wade
and the fact that he is playing in a town that doesn't care about basketball.
Raab does make one fairly startling statement: he wanted James to suffer a debilitating injury.
This is where LeBron James wants to play basketball, in front of sun-dried cretins who must be bribed to act as if they care about the game and the team. Where another superstar already is the Man in the locker room and on the court; where nobody in the media will ever mention his collapse against Boston, his phantom elbow pain, and his steadfast refusal to hold himself accountable for his team's big-game failures.


For as long as I've been a fan, I've rooted hard against certain teams and players, but never have I hoped to see a career-ending injury — until tonight.
Aside from death and cancer, that's as low as you can go in sportswriting.
But this clearly wasn't an accidental step down a worm hole. The excerpt reads a bit like a self-loathing confession, as Raab details how sorry he feels for himself for being overweight and lays out his prescription medication cocktail of choice for the world to see. The deep personal hatred for James falls under that same umbrella, as the author stands as an obvious symbol of the wreckage James left when he chose to abandon Cleveland for Miami.
How bad was
The Decision
? So bad a grown man readily admits that he wants a life-altering catastrophe as revenge.
It's a nauseating but ultimately effective device. By the end of the chapter the reader understands this isn't going to be your garden variety James rant. The
Whore of Akron
promises to go to darker, more disturbing places. This has the makings of a Bible for LeBron haters. Of course, it also has the makings of a restraining order.