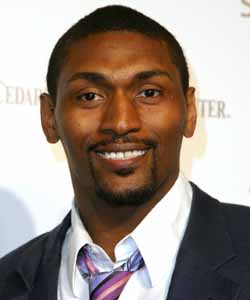 Posted by Royce Young
You know who hasn't been bored during the NBA lockout? Metta Ron Artest World Peace. That guy is keeping up with things. He flirted with playing professionally in England for like three months, changed his name, danced with stars, signed up to box Rampage Jackson -- something's always going on with Artest.
And now, he's getting a TV show. Naturally.
Via the L.A. Times
:
The NBA faces plenty of consequences the longer this lockout lasts.

Some point to compensation: The loss of paychecks will hurt far more for concession and team employees than the owners and players. Some point to entertainment value: The NBA at least temporarily hurts its product to fans, while they can't get their pro basketball fix. But there's one tiny silver lining: Metta World Peace will continue to appear in the headlines for reasons that have nothing to do with basketball.

The latest: The player formerly known as Ron Artest announced on Twitter he will appear in his first acting gig at 7 p.m. Tuesday in BET's "Reed Between the Lines." Artest couldn't be immediately reached for comment, and his publicist didn't have immediate details on what his role will entail. But here's one morsel of news that will give Laker fans something to do during this long offseason. Tweeted Artest...err..World Peace: "More tv and movies coming!!!!"
Artest isn't the first big name to take his talents to the silver screen as
Kevin Durant
had a lead role in a children's movie while
Carmelo Anthony
and
Chris Bosh
had appearances on "Law and Order". How good will Artest be? With him, there's absolutely no telling. But will it be entertaining? Almost certainly.