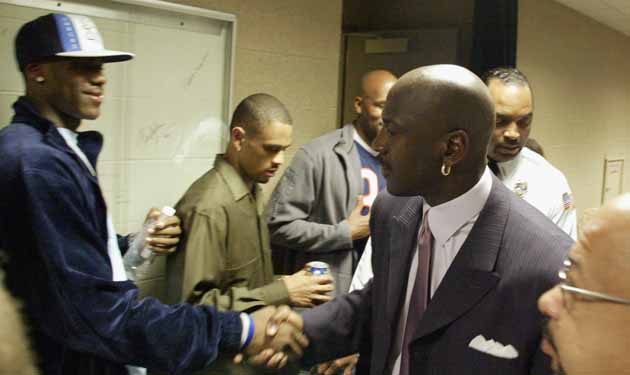 By Matt Moore
You have to understand, it was the culmination of the right player at the right time with the right approach and the right management. When Michael Jordan entered our collective consciousness, we treat it as some fairytale story, right down to the details of getting cut from his varsity team. But in reality, it was the perfect combination of factors that lead to what became the juggernaut/behemoth/gargantuan cash machine Jordan is today. And man, is he still ever one.
From Forbes:
Yet even out of the spotlight, the business of Michael Jordan has never been better. We estimate that Jordan earned $60 million over the past year mainly through his endorsement deals with Nike, Gatorade, Hanes, Upper Deck, 2K Sports and Five Star Fragrances. He also owns five restaurants and a car dealership in North Carolina. His annual earnings are greater than any other sports figure save Tiger Woods who topped our world's highest-paid athletes this year.

At Jordan's peak during his playing career, he was making $50 million off the court through sponsorships. He also banked $63 million in combined salary during his last two years with the Bulls.
via
The Business Of Michael Jordan Is Booming - Forbes
.
Jordan makes more
today
, fourteen years after the Bulls' last championship, than he did from his on-court salary when he played. When you hear players talk about being underpaid? That's got to be part of their thinking. But again, Jordan was the right player at the right time. It's undeniable that Jordan was the greatest basketball player that has ever played the game. Hate stats and love winning? Six championships, thank you and goodnight. Love metrics and want an unclouded analysis? Jordan had
four of the top ten PER seasons
of all time, and his scoring stats are through the roof. But he also was the perfect athlete for Nike to launch his own brand under, an idea never before heard of and never since replicated adequately.
His myth propels him forward. From Gatorade to Hanes to the newest deal with 2K Sports, Jordan doesn't just do appearances as an athlete anymore, he does endorsements and media appearances as
Michael Jordan
. His image, like his game, has actually transcended himself. Which is amazing, because he was the best basketball player ever as well as the most marketable athlete in history. The
idea
of him is just as popular as the
reality
was.
And that reality? It was protected. Jordan entered into the mainstream at a time when you could push his image to millions through television, magazines, billboards, and newspapers, but the internet didn't exist. You could exert perfect control. Post-game press conferences weren't televised live on NBA TV or ESPN. Cell phones didn't exist, much less camera phones to record Jordan during his prolific partying and gambling days. And even now, the effect that the
idea
of Jordan had on kids who grew up worshipping him, most of whom now occupy these same media and blog spaces you're reading at this moment, has caused a certain level of protection. Jordan's not only far from perfect, he's probably a little on the far side of the likeable line, if we're really going to approach his personality. But he's protected by media, and the fans, to be sure (nobody wants Jordan revealed, torn down, desecrated like modern athletes, and media's happy to oblige), because of the image they gave him.
Consider this, from the same Forbes article, on his popularity.
Nielsen and E-Poll Market Research produce an N-Score for celebrities that measures appeal, likability and awareness. No athlete comes close to matching MJ's stats who has an N-Score of 682, nearly 300 points higher than any other sports figure. His 71% awareness is among the highest in sports (only Tiger Woods, OJ Simpson and Mike Tyson rank higher and not necessarily for the right reasons). His personality attributes score off the charts and he rates as being liked by 93% of people surveyed. Compare that to LeBron James who 49% of respondents say they dislike.
via
The Business Of Michael Jordan Is Booming - Forbes
.
Think about that. More than nine out of ten people like Michael Jordan, despite the gambling and the drinking and the mom jeans, and the Hall of Fame speech, and the fact that he beat the crap out of teammates and psychologically destroyed
Kwame Brown
. None of this can even
touch
him. Because he entered our consciousness at the perfect moment, was weilded by those who market to the fullest degree, and managed to duck anything which could forever scar him. No Tiger Woods car wreck incidents to kick off a fervor, and the media/papparazzi didn't hound then like it does now. There's not the ability for a poorly worded comment in a post-game presser to speed through Twitter instantly and become a story the next day.
Among the hundreds of reasons why the LeBron James-Michael Jordan comparisons are pointless (they play different positions with different skillsets; Jordan, accurately or not, is perceived as a winner in retrospect
despite not having won a championship when he was James' age
; no one is ever going to cede that title to Kobe or anyone else because of the aforementioned deification complex we have as a society with Jordan, he's our sacred cow we continue to milk; and, oh, yeah, Jordan really was a better player) lies this: James' personality could never have been Jordan's. Not because LeBron is arrogant. Come on, take one look at everything you know about Jordan and tell me he's humble. But because James operates in a cultural sphere that is faster, more ubiquitious, more diverse than ever. And worse than that, James is aware of the scope of who's listening to and watching him. That self-awareness drives both his arrogance and his anxiety about being popular. In the presser after Game 6 when LeBron spoke the famous lines everyone hates him for about people and their lives (which came off as "you little people"-ish), he had just gotten through saying "I failed." That's what we all needed to hear. But James keeps talking, trying to get people to like him.
Jordan never cared if you liked him as long as you worshipped him. Particularly with your wallet.
When James was named the top player
by three
different
media entities
,
most recently by ESPN
, the ruckus was enough to wake a coma patient. Several writers actually cashed in on criticizing the entities for saying that, and parlayed themselves as writers of the people. Unfortunately, if you actually spend your nights watching each game, if you devote the time these experts have taken to knowing and understanding the game every night, if you're not just chasing the top headlines and scribbling your thoughts based on a SportsCenter highlight package or a handful of games, you don't come to any other conclusion. It doesn't erase James' failings in the fourth quarter in the Finals or the absurd idiocy of "The Decision," nor does it make him likeable. He's not. But it does make him the best basketball player currently playing the game.
Not only will James never be Jordan, even if his career follows a similar career arc, with the winning after age 26 and the multiple titles and all, but James will always be the polar opposite of Jordan. Jordan was born into the perfect environment for society to deify him, to raise him up, and he was the perfect player to do that with. The jumper, the dunk, the tongue wag, the shrug, the fist pump, the political savvy to understand the importance of not being involved politically, the smile. He was the right player at the right time, in the right way, and it continues to pay off for Jordan. LeBron? LeBron will make some of the money. He'll get some of the glory. But he won't ever be that.
Wrong guy, wrong time, wrong place.
The era of deification is over, even if we're all still paying our tithe at the Temple of MJ.
(HT: TrueHoopNetwork for a discussion of Jordan v. Internet 2011 through email.)