Posted by Royce Young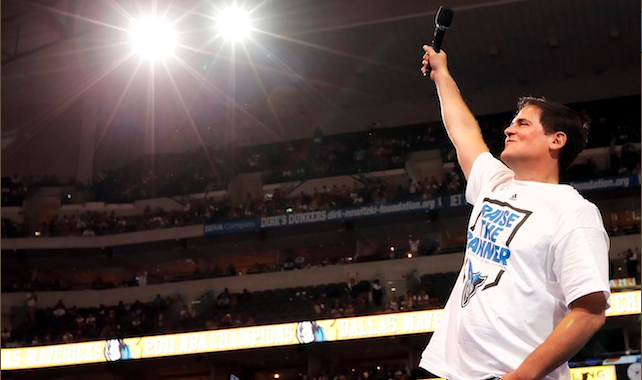 Progress! Progress has been made. Reportedly.
With labor negotiations going the distance over the past couple days, the gap on Basketball Related Income has been bridged, at least by a little. One reason for it? Mark Cuban.
Wait, Mark Cuban? Yes, Mark Cuban.
Via NBA.com
:
In fact, a source briefed on the talks told NBA.com's David Aldridge that there won't be a problem on the split. Dallas owner Mark Cuban reportedly was helpful in moving the owners and the players -- each of whom had wanted 53 percent of BRI (the old split favored the players 57/43) -- toward the middle.
I'll drink to that
. I don't know what Cuban could've done or said that helped finally move the needle a bit but he's a big hitter and someone who makes his voice and ideas heard.
Which is often what a negotiation in a stalemate needs. Someone to just take the responsibility to get it done. Because OBVIOUSLY someone's got to give here on BRI. It has to happen. No way around it. The owners can't stay at 47 and the players at 53 and them get a deal. It's not possible. It can't happen.
So in order to finally close the gap, something has to give. If that's Mark Cuban stepping to the plate and pushing both sides to bend, then so be it. And if Cuban's one of the big reasons this lockout ends, he's already a two-time champion in my book.