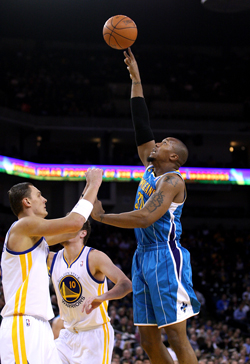 Posted by Royce Young
One of this free agent period's -- whenever that may happen -- top players is
David West
. Maybe "was" is a better word. Because after West's devastating knee injury late in the season, his value may have dropped a good amount.
But he's back. Well at least according to his agent,
via Yahoo! Sports
:
"Free agent David West, one of top players on market, has doctor's full clearance to return after ACL surgery, agent Lance Young says."
Good for West, but a doctor's clearance doesn't necessarily mean that he's going to walk back on the court and be a 20-10 threat. And it also doesn't mean that a team is going to just up and splurge big on him in free agency.
West opted out of the last year of his deal with the
Hornets
despite the knee injury, so he obviously has some confidence he'll get his game back. And there's definitely a good chance he will. There are a good number of teams -- the
Nets
, being an obvious one -- that are going to look hard at West no matter his health.
But being cleared now is a good sign for him. In fact, it may benefit him. Instead of having his free agency in July when he wasn't healthy, he can now show off a bit.
West tore his knee up in late March
and said in July that
he was looking for an October return
. Which he's right on schedule for. ACL injuries typically take about six months to recover from so West didn't have any setbacks.
Now it's a matter of getting that next contract. How big it is might hinge on how much faith a new team has on that knee.