By Matt Moore
The NBPA fired back aggressively at the NBA following the breakdown of negotiations Thursday. To put it in perspective, here's how things started, via
Ken Berger of CBSSports.com
: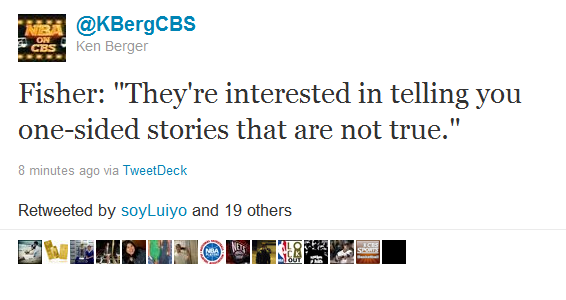 And things only got rougher from there.
Fisher began by stating that the implication that the players were not willing to stay and talk is patently false, that they were willing to continue negotiations for as long as it takes. Fisher said that at the impasse in regards to BRI, the players suggested tabling the issue again and moving back to the systemic issues. The owners refused, Fisher said.
Then Hunter took to the podium, and things only got more serious from there.
Hunter came out firing, claiming that the union offered a "band" BRI offer similar to the
49-51 offer from the owners
described by Ken Berger of CBSSports.com earlier this week. The band? 50-53, effectively providing the league with the revenue split it desires, should revenues not reach a certain point. Hunter said that the owners would
not even listen to any proposal unless the precondition was that of a 50/50 split
.
"Take it or leave it"
was the phrase used.
Then he started naming names. Hunter revealed that the owners were speaking directly,
claiming that Dan Gilbert told Hunter to "trust his gut"
and that
Paul Allen was a new participant
.
Hunter said decertification is on the table
, along with "everything," an option that seems more likely with every breakdown in talks. Hunter
reiterated that the union remains open
to any and all negotiations and they "want to talk."
Here's video of Hunter going off about Gilber telling him to "trust his gut" on the revenue split.
Perhaps of most interest, Hunter and union attorney Jeffrey Kessler both claimed that
something occurred
at the Board of Governors meeting on Wednesday night and Thursday morning to change the tone of the owners' approach. Hunter stated that there was a feeling from the owners that they had surrendered too much in previous meeetings.
David Stern did not attend Thursdays meetings, due to what
Adam Silver described as the flu
.