Posted by Royce Young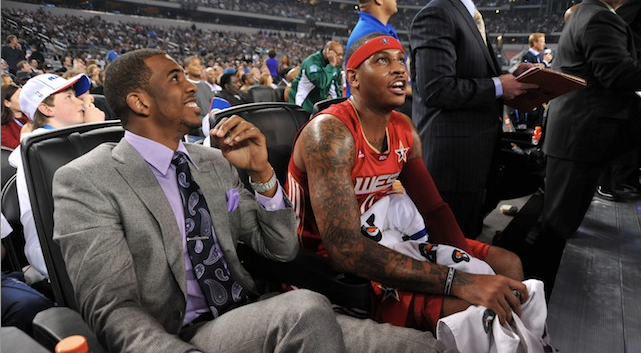 Carmelo Anthony
hasn't forgot about that toast
Chris Paul
made at his wedding. And with
Chauncey Billups
' contract up at the end of 2012, the
Knicks
are going to need a point guard. Guess who Melo wants?
"If it works out and he comes here and they allow him to come here, you'll see a smile from ear to ear,"
Anthony told the New York Post
. "It's not just me. It's everybody [in New York]. If he decides to leave New Orleans and goes somewhere else, they'll be feeling the same way I'm feeling."
You know who else would be feeling that way? Like 26 other teams. Chris Paul, along with
Dwight Howard
, are the two prizes of 2012. Wherever CP3 goes, he'll take a team and turn it into a contender. Would the Knicks be a fit? Yes, totally. Melo,
Amar'e Stoudemire
and CP3? That's almost every bit as impressive as what Miami's got, excepet that big three would have a little more natural construction.
But the Knicks just won't have the cap room. Unlike what Pat Riley did with the
Heat
, the Knicks haven't really cleared the decks for three players to take over the roster. The best shot there is for New York is to wiggle a trade at the deadline using Billups contract. But much like the Knicks went through with acquiring Melo, they don't really have the best offer to make New Orleans. And if Chris Paul doesn't put a disclaimer on a trade like Melo did, I don't see how the Knicks could match an offer made by a lot of other teams.
It just depends on what the new salary cap looks like. If it's a similar system to now, the Knicks could likely get creative and make space. But if it's a harder cap or one with an extreme luxury tax, getting CP3 would be near impossible.
Melo saying this would probably fall under the league's anti-tampering rules, but those don't really exist right now with the players locked out. So go ahead Melo. Any other players you want?