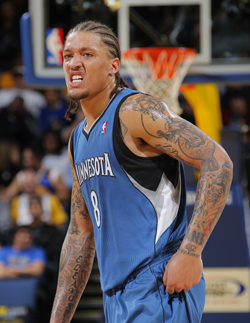 Posted by Royce Young
When I say, "Michael Beasley," what do you think of? Wasted talent? Pot smoking? Pickup ball streetfights? Really dumb things in general?
That's why you hire a PR firm. To re-shape that image.
Via the Star-Tribune
:
He has also taken up ballet to transform his body and hired a public- relations agency to improve his image.

"I want everyone to know that I'm not this monster that they perceive," he said. "I'm a really nice guy…."

He has played with childhood pal Durant and Wall in exhibition games across the country and also has incorporated elements of yoga, karate and, yes, ballet into summer workouts intended to make his body stronger, more limber and help ensure a long, productive career. He has dropped about 15 pounds after playing last season at 240 pounds.
(Wait, rewind to that first part -- ballet?
Michael Beasley
is doing ballet? Talk about the black swan.)
Beasley is far from a "monster" though. He hasn't done anything over-the-top horrible. He got caught with some weed. He got in a scuffle. He's just kind of an immature idiot that can absolutely get everything straightened out. Compared to other "monsters" out there, Beasley's a pretty good guy. Relatively speaking, of course.
The biggest issue for Beasley has just been that he's wasting an extreme amount of talent. We're talking a No. 2 overall pick that averaged 25-10 as a freshman at Kansas State. He's easily a top tier NBA talent if he could keep his focus and continue to work. Beasley had nights for Minnesota where he scored at will. Remember the first month last season? He was a top five scorer. Then he started to tune out and didn't bring it every night.
A PR firm isn't going to turn him into the basketball player he should be. Which is really all the PR he needs. Once he starts putting it together on the court, all that other noise will fade away. Or at the least, fans will ignore it because he's scoring. Sad, but that's kind of the way it is.