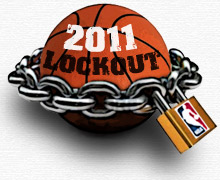 Posted by Royce Young
The players are standing firm in their conviction to get what they see as a fair deal. Good for them, I guess. But at the same time, all those little BRI percentage points they've dug their heels in to get will start to disappear with each NBA game that is missed.
The difference between 52.5 percent and 50 percent is really only about $50 million in real money per season. The players will lose that in less than two weeks.
You know who knows all about this? NHL players. They lost their entire season in 2004-05 because the owners were trying for major systematic changes. And one former player, Bill Guerin, is trying to tell the NBA players that it's just not worth it.
Via the Star-Telegram
:
"It's not worth it. Get a deal done," former Dallas Stars forward Bill Guerin said during a phone call last week.

There was not a single NHL player during the Great Lockout of 2004-05 who was a bigger proponent of the union's fight than this man. No one believed in the cause more than Guerin, and to hear him admit this is a bit stunning.

"I learned a big lesson: It's not a partnership. It's their league, and you are going to play when they want," he said.

Today, Guerin has hindsight and his experience serves as a giant caution to any player who thinks losing a game, much less an entire season, to this lockout is a good idea. His message is simple: Get what you can; start playing; you are not going to win what you think.

"It is not worth it to any of them to burn games or to burn an entire year. Burning a year was ridiculous," Guerin said. "It wasn't worth me giving up $9 million a year, or 82 games plus the playoffs, then having a crappy year and being bought out.... Guys in the NBA making $15 million or however much better think long and hard about this."
Now the NHL and NBA situations aren't all that comparable. The NHL was a blue collar sport with a white collar system, as some have described it. It needed to be restructured and really, the league is better for it today.
But it's good advice from Guerin to NBA players. It really isn't worth it. Like really, it's not worth it in terms of dollars and cents. Or at least it won't be in a few weeks.
Consider this quote from Guerin: "We could have waited two years and they would have waited us out -- I would have given an extra 2 percent back to play that year," Guerin said. "When you are in the
Heat
of battle, and you are fired up, you don't think what they are doing is right. But it's not about what is right or wrong -- it's their league. It's theirs. I feel, personally, I didn't like guys giving up a year of their career, for what? A few less
Bucks
? Guys are making more money now than they ever have."
That sounds like sense to me. It sounds like it's not just the type of stuff columnists and writers like me are blowing up players' butts with. That's real stuff from a guy that knows. That's something from a player that lived through an ENTIRE lost season. That's something to pay attention to.
When Billy Hunter said a hard cap system is a "blood issue" you knew that there was some emotional investment in this for the players. They want their old system back. A new NBA world where owners make lots of money and they make less isn't something they want.
But face facts: Whether it's 52.5 percent BRI or 47 percent BRI, NBA players are still going to make a crapton of money playing ball. That's the reality. Like Guerin said, it's hard to fully grasp that when you're in a battle trying to fight over something you're convinced isn't right, but sometimes life's not fair. Sometimes, the guys in charge wearing the suits get to make those decisions that aren't fair. And the employees, for better or worse, just have to live with it.