Posted by Ben Golliver.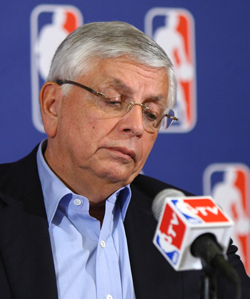 "Plantation overseer" might be going too far, according to one NBA player, but David Stern does deserve some criticism for how he handles his business as commissioner.
Respected veteran Utah
Jazz
guard
Raja Bell
told 790 AM in Miami that, while he didn't agree with television commentator Bryant Gumbel's
controversial evokation of slavery
, Stern does display some dictatorial tendencies.
Here's Bell's thoughts
via SportsRadioInterviews.com
.
Your thoughts on Bryant Gumbel's comments on David Stern being a "plantation overseer?"

"[Laughs a few times] Some of what he says in that interview or on his show I think is accurate. I don't mean the racial part of what he said. I mean [NBA] commissioner Stern in my personal opinion…I feel like he's a bit in the way of us making progress here. I feel like he might be in his last few years as commissioner and he is looking to make his legacy on what kind of deal he get can get these owners this time around. I feel strongly about that. I feel like he has been one of the biggest problems in this whole lockout. It's unfortunate we have not been able to get past that, but as far the racial part of what he said; I don't necessarily touch on that. I don't know what David Stern's motives are. I don't know how he views us as players. I do think he rules the NBA with an 'iron fist,' and it is his way or the highway. I don't necessarily agree with that philosophy, but the rest of it…I don't know. I don't know where Bryant is coming from. I don't know what he was thinking at the time. I am surely not on the same page as him with some of that."
NBA deputy commissioner Adam Silver
stood up for his boss
on Thursday, saying Gumbel's comments were "outrageous."
All things considered, Stern's reputation as a tough-minded executive and fierce negotiator are well-earned. But Thursday may very well have been his "Emperor with no clothes" moment, as a "worn down" Stern stayed home to battle a flu while the ongoing labor talks blew up in his absence. With hard-liners carrying the day and National Basketball Players Association president openly accusing the owners of lying on national television, Stern's fist looked more velvet than iron, at least for 24 hours.
That could be an ominous development for NBA fans. The ball is now clearly in Stern's court. He must act next in determining if and when to cancel further NBA games. Will he cancel two weeks? Will he cancel a month? Will he cancel all the way until Christmas, as he threatened to do last week? And, importantly, will he be able to establish a consensus on a deal-making position among his own owners with the clock ticking?
Those are all difficult questions and they demand a pro-active, tough-minded executive. Stern has rarely failed to fill that role during his multiple decades heading up the NBA. If he opts to put on his iron glove and pound his fist on the table, it could be awhile before we see hoops on the hardwood.